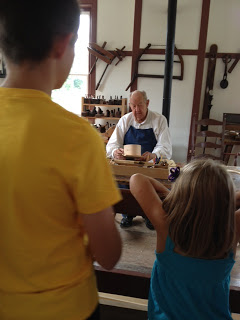 Work is no disgrace; the disgrace is idleness. ~ Greek proverb

Labor Day weekend – the last hurrah of summer. In some places it's when school starts although here in our community, school has been starting earlier and earlier, and now the kids have usually been in school several weeks by the time Labor Day comes around. Labor Day was originally conceived as a day to celebrate the laborers in our country and although it wasn't officially established as a national holiday until Grover Cleveland signed it into law in 1894, the idea of celebrating work and workers would surely have been one the Shakers would have found fitting.
The Shakers believed a person should work, but then so did their neighbors in the "world." Most of us still believe a person needs useful work to do. Perhaps that's because few of us have the opportunity for a life a leisure. So we hunt jobs and celebrate when we find that perfect job or in this hard economic time, when we find any job we can do to help keep our families going.
The Shaker village near where I live is now a living history museum and it gives a number of people jobs as they demonstrate how the Shakers used to live. The picture above is of one of those workers demonstrating the way the Shakers made the wooden boxes they used for storage.
We visited the village yesterday. One of my granddaughters has been reading some of my Shaker books and she was anxious to see the place I use as the physical setting of my books. I expected my younger granddaughters, three and six, to maybe be bored with the visit, but they enjoyed watching the demonstrations and learning about the Shakers as much as the older grandkids. And of course, they enjoyed seeing the goats and meeting the turkey named Henry. It was a good trip to take on Labor Day weekend since it's a good place to celebrate work.

No great achievement is possible without persistent work. ~ Bertrand Russell

There is no substitute for hard work. ~ Thomas Edison

A man is not paid for having a head and hands, but for using them.
~ Elbert Hubbard

Hope you have a great holiday. And a better one than I used to have when we were doing more farming. Then it seemed as if Labor Day weekend was always when work needed to be done to get in the crops. Now I'll simply need to "labor" to get some more of my new story written. Might be a good day for that since rain is in the forecast. Hope if you're planning picnics or cookouts or even some harvesting, that the weather will cooperate with you.
What does Labor Day mean to you? Do you celebrate work? Do you stop wearing white shoes and pants until spring? Labor Day used to be a fashion deadline on those. Most of us don't worry so much about that any more.
Thanks for reading. Hope you enjoy your day off work.