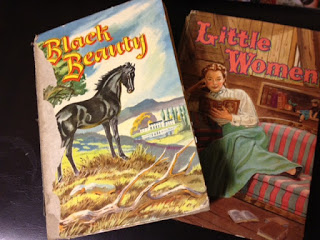 "Books in a home with growing children is one of the most important things you can put in a house." ~ Thomas D. Clark (Kentucky historian and friend)
I was a guest blogger over on The Romance Dish this week with a post about "The Romance of Writing." Lots of good comments came in about what readers liked in the books they read. Then this afternoon while I was walking, I thought about what a romance I've had with words and books almost all my life. These two books, Black Beauty and Little Women were probably two of the very first "big" books I owned. They were Christmas gifts and treasured ones at that. I got a lot of my books from the library on loan, but these I could put my name on the inside cover. And I did. These words made a horse and a family of sisters come to life in my head. I was officially in love with books.
Before I go on chattering, what do you notice about these books? Besides the worn spines. I'll tell you what I notice at the end of this post. And since I've been all over giving books away on other blogs, I think it's time I gave away a couple of books here on One Writer's Journal. If you leave a comment before the post next Wednesday, you'll be entered in the drawing. Two winners chosen by random will get an autographed copy of The Gifted. And let's make it fun. Tell me the first book you remember reading and if you can't remember that one, tell me a favorite book or the last book you've read.
Back to chattering. Once I discovered reading, I was never far from a book. Books were my friends, my entertainment, my teachers. The words soaked deep into my mind and filled me with the desire to spill my own words out on paper. The beauty of words transported this little farm girl into thousands of different settings to live thousands of different lives. I've fallen in love with countless handsome heroes. I've mourned too many sad deaths to number – even the death of a spider in Charlotte's Web. Who could have ever imagined crying over a dead spider? But oh, the magic of words that can lead us down a fictional path into a make believe world that swallows us up.
So come on and share the first book you remember reading. Any comment will get you into the drawing next Wednesday, but we might as well have fun remembering favorite books. That will be a little bonus fun for those of you like me who rarely win these kind of drawings.
Thanks again for reading. Oh, and did you figure out what I was noticing on those books in the picture? No author's names on the front covers. The author's names might have been on the spines that fell off the books long ago. Of course, these books were packaged especially for young readers like I was then. Maybe that's why the companies didn't think the author's name mattered. Maybe the author's name still doesn't matter. The story – that's what matters.