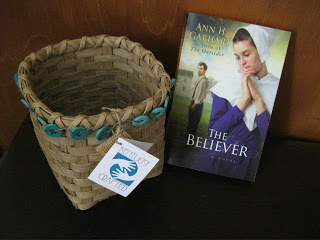 Nine more days to take part in my Celebration giveaways. Either on my website at the The Gifted Contest Page (prizes shown there) or at Fresh Fiction and have a chance to win a lovely journal and pen. The picture of the basket and my book The Believer is the second prize in my website contest. The basket is a one-of-a-kind made locally. Not exactly like the Shakers would have made it since it is decorated with buttons, but the Shakers did make lots of baskets for use in their villages and for sale.
It fun to give things away to celebrate a new book and another way I celebrate (and give away books) is by guesting on other blogs. I did a lot of that when Words Spoken True was published last February and some of you reading friends followed me around to leave comments and try to win a copy of the book. Well, now you can do it again. I was a guest on Rose McCauley's Blog Friday, and you still have time to comment there to have a chance to win a copy of The Gifted. Since Jessamine has to figure out which gifts are true and worthy in this new Shaker book, that's what I decided to write about with Rose. "What is Your Gift?" It was interesting to me that our pastor preached on how we all have gifts this morning. And no, I don't think he read my post over on Rose's blog.
"Life is a gift, and it offers us the privilege, opportunity, and
responsibility to give something back by becoming more." ~Anthony
Robbins
Then I have a guest blog on Romance at Random all about love at first sight. Do you believe that's possible? Maybe you've experienced it. Or at least attraction at first sight. I was certainly attracted to my husband at first sight and we're still together all these years later. No free book on that site, but you can join in the conversation about whether you think love at first sight is possible. Of course, you can join in the conversation here for that too. And I threw out the question on Facebook a while ago and was already hearing love stories and then one story where the love at first sight feeling didn't lead to enduring love.
But don't you just love to hear other people's love stories? How they met. How long they've been together. A couple at our church just celebrated their 64th anniversary. We had another couple who made it to 75 years together before the husband passed on at age 95. True testimonies of love and faithfulness. So you can find out how I met my husband if you go check out what I have to say about love at first sight.
More guest blog posts to come with some of them offering chances to win a free book. A lot of reviews out there too. Ann Shorey, a fellow Revell writer, did one on The Gifted last week. If you want to know her thoughts about the book, go to Ann Shorey's website and you can check out Ann's books too while you're there.
I've got to come up with another guest post for a site called The Romance Dish. What romantic topic would you suggest?
Thanks for reading.