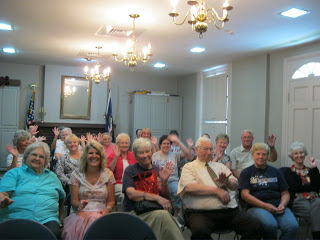 My Hometown Reading Friends
Any excuse to have fun is a good excuse. And I did have fun this weekend celebrating my new Shaker book, The Gifted. See this roomful of friends waving at me and smiling? And that was after I talked. Could be that's why they were smiling — because I'd finally hushed. I asked them to wave and I think it's funny that the people in the back rows waved big while the people in the front row were too shy or too something to hardly wave at all. If I was a psychologist I might figure that out. But that's okay. They were still smiling.
I was smiling too, because it's always such fun to talk about a new book with friends. My hometown reading friends are so good to come out and support me as a local author. Each time a new person comes in the door of the library meeting room, I feel as if he or she is giving me a gift. In a way, they are. They are giving me the gift of their time. They are patiently ready to listen to me talk about how I got started writing and tell some of the same stories about my books again. I try to do a quick rehash of my writing history for the people who haven't heard me speak before, but some of the same stories about my hometown do seem to surface each book launch. Like how I changed the name of Lawrenceburg to Hollyhill in my books about Jocie and her friends because the Lawrenceburg series doesn't roll off the tongue right. How I didn't base any of my characters on real people – and that was my story and I was sticking to it. How The Outsider sat on a shelf for 25 years before it was published. How I love to write. And how deep my roots go in this community.
These sweet people laughed again when they were supposed to laugh. These sweet people asked questions when they were supposed to ask questions. These sweet people acted thrilled (at least the ones who won them) when they got one of my door prizes that were more fun than fancy. I gave away a raspberry candle because Jessamine was on a wild goose chase hunting wild raspberries in the first scene of The Gifted. I gave away a journal and a pen because Sister Sophrena wrote in a journal all the way through The Gifted. One door prize was a travel cup that said, "I took the road less traveled. Now where the heck am I?" That was Sister Annie following after Jessamine.
Then there was the cup that said "Believe. All things are possible if you believe." That matches my book The Believer, but maybe it matches my writing journey too. How in the world could a little farm girl grab onto such a big dream as writing books and then years later, be celebrating her 24th published book with a room full of hometown reading friends? I am blessed. Many thanks to those of you who came to celebrate with me and also to those of you who celebrated with me from afar.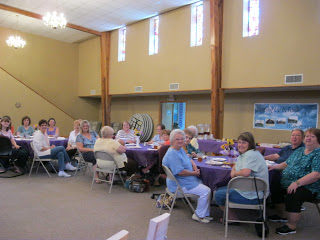 Some of the Sherman Full Gospel ladies at the brunch
I also had book fun on Saturday with the ladies at a brunch at the Sherman Full Gospel Church in Dry Ridge, KY. These were all fresh ears so I got to tell my old writing stories with no worries about repeating myself. It was a lovely church with a friendly group of ladies who made some pretty fancy fixings for brunch. So how to have fun with a new book is to find some people willing to laugh at your jokes and listen to you tell about the gift of writing. Thank all of you.
If you haven't already, don't forget about signing up for my Celebration contests on my website contest page and on the Fresh Fiction Contest Page. Entries need to be in by midnight EST on July 31.

Thanks for reading!