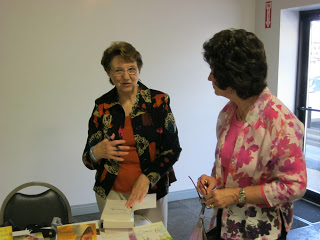 Talking to friends – the best part of a booksigning
A new book means I get to celebrate with my reading friends. I started having book launch celebrations here in my hometown when my first inspirational novel, The Scent of Lilacs was published. We had so much fun that I've had a book launch party for every book since. And now it's time to gather with friends for my new book, The Gifted. That will be happening this coming Sunday at 2 p.m. at the Anderson County Public Library – the good Lord willing and the creek doesn't rise. Not much chance of the creek rising as dry as it's been and I'll hope the Lord will smile down on us celebrating a new book. I'll be talking about writing this fifth Shaker novel and hearing what you have to say about The Gifted too. Question and answer time is always my favorite part of any talk.

But I know many of you reading friends live a little too far away to drive over (or maybe down or up) to celebrate with me. So I'm celebrating with all of you by having a contest or two where I can give away a few prizes. This pottery pitcher is the third prize in my Celebration giveaway on my website. You can sign up there until midnight EST on July 31 for a chance to win one of three prizes. This pitcher was made by a local artist here in Anderson County. That's fun – to have a local, one of a kind prize. Then there's the Fresh Fiction giveaway too, plus I'll be doing some guest posts on blogs with the chance to win a book. Some reading friends followed me around to those with Words Spoken True, and I appreciated that so much.
All the celebrating is good, but here at home, I need to be beginning on a new reason to celebrate. It's time for me to pull up the blank page, ask a few "what if" questions and try to launch into a new story with the hope that in a year or so I'll be able to have another party with friends and giveaways to celebrate it.
Beginnings – in a story that's when anything is possible. A time when a writer can believe this might be the best story yet or a time when a writer might worry that the story magic won't sprinkle over her fingers on the keyboard. After writing dozens of stories, I can summon up confidence that the story will come – most of the time. It always has before, but with each new story, I want it to be better than the last. That's what can be hard. Believing I can write a better story than the ones I've already written. But I will begin again and search out new people who have a new story to tell. I won't let the blank page intimidate me. At least, not too much.
Thanks so much for reading and if you're in the area, I hope you'll come to the Anderson County Public Library Sunday, July 15th, and enjoy celebrating a new book with me.