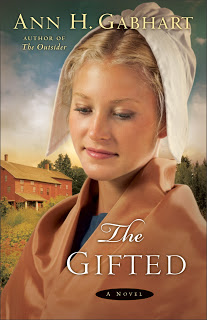 The Gifted was released today, July 1. That makes today a good day. July 1 is also my deadline for the book I'm currently writing. That makes today a pressure filled day. July 1 is also my granddaughter's birthday. That makes it a joyful day. Tonight, still July 1, was also a really hard night for me with Mom, so that made it a not so good day. My husband was singing at a church in a nearby town and the WV grandkids, who happened to be in that town due to the electricity being out because of the storms that went through their area, all went to hear him. I didn't get to go. I didn't get to see the kids. That made it a day I was feeling a little sorry for myself. All the same day but with such different ups and downs.
But a person should always concentrate on the bright side. The bright side is Jessamine is ready to share her story with readers. The bright side is that some people have already read The Gifted and I'm beginning to hear some reader remarks and see a few reviews. The bright side is that the first two reader reviews on Amazon had all the stars lit up. Here's what one of those readers said, "Full of rich detail about the lives of this
reclusive religious group, it is fascinating reading for anyone curious
about the Shakers, or anyone who is a fan of reading about the Plain
people, though not necessarily Amish." That was nice – another bright side.
The bright side is that I am almost finished with the new book even though I did spend extra hours at the nursing home and finally had to leave with Mom angry with me. Due to emergencies with a couple of other patients, they were slow to bring her medicine. She had gone to sleep and when they woke her she was in a wrong mood. Refused her medicine. Refused to listen to me. Now I have to worry about how she's doing without that medicine. Sigh.
It was just one of those nights when things didn't go smoothly. But I suppose I can be glad that the electricity didn't get knocked out by the storm. I can be glad for all the bright sides of this day, July 1. And I can be very glad that I have a new book available for readers. As soon as I get the new book off to my editor, I'll be sending out a newsletter with information about celebrating The Gifted with the chance for you to win some special gifts. A person needs to shine up the bright sides and celebrate the good things in life.
Thanks for reading and helping me shine up the bright sides of this day and every day.