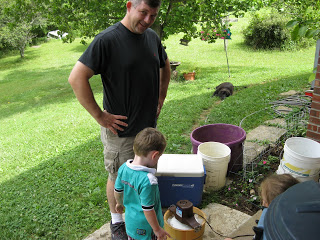 A truly rich man is one whose children run into his arms when his hands are empty. ~Author Unknown
When my dad was living and we all went home to celebrate Father's Day, we nearly always made ice cream. The same was true when we gathered with my husband's family in the summer time. I think they must have decided on June for Father's Day because they knew most dads love ice cream.
My dad had a White Mountain ice cream freezer. The kind you cranked yourself. Those plug-in types like the one you see in the picture where we're making ice cream last year on Father's Day, they weren't the real thing. If you wanted to make the good ice cream, you turned the crank with muscle power and not electrical power. That was part of the fun on Dad's day. Taking turns cranking the ice cream. Even the little kids got in on the action in the early going before the ice cream started to harden.
Mom made the stock, then generally we added bananas, some
cream or half and half and vanilla. Sometimes, if we had fresh
strawberries or peaches, Dad would let us vary the flavor, but he liked
banana best. So did my father-in-law. So does my husband. I think I
experimented with a chocolate recipe once. All the guys considered it a
waste of time and effort and next time went shopping for bananas. Once Mom had the canister loaded with the ice cream mix she turned it over to the guys and kids to freeze.
Of course it was Dad who knew exactly the right mix of salt and ice to freeze it the fastest. Nothing was really going to happen until water started coming out of the overflow hole in the wooden tub. Then you were getting somewhere. Finally Dad would declare the crank too hard to turn, open the top very carefully to keep the salt on the outside and not in the ice cream, and pull out the dasher. Mom would pass out spoons to the kids to get a taste from that. Then Dad would put a cork in the top, drain off the salty ice water somewhere it didn't matter if the plants died. Always a great way to get rid of stubborn poison ivy plants. Then he would pack in more ice and salt, tie newspapers around it with baling twine, and cover it with a thick blanket. After an hour or so, the wraps would come off and it would be ice cream time.
We don't make ice cream as much as we used to while Dad and my father-in-law were living, but the memories live on. And I do have my mother's recipe for the stock if you want to give it a try. Beats the mix hands down.
She cooked it in a double boiler, but you can also probably microwave it or cook it carefully with a lot of stirring in an iron skillet. This made about a gallon. You adjusted the amount by adding the mashed fruit and additional milk.
Stir 1/2 cup all purpose flour into 2 cups sugar. Add 3 eggs, beaten. Stir in 6 cups milk. Cook over hot water (see note above) until slightly thickened. Remove from heat and beat hard. To the above mixture add sufficient milk, a pint of cream (or half-and-half), your choice of mashed fruit (for banana ice cream, mash up 6 or 7 really ripe bananas) or flavoring. Stir well, pour into your ice cream freezer and have fun making some yummy ice cream.
Do you have a favorite ice cream recipe? Share it with us.
Thanks for reading. Hope you had a blessed and happy Father's Day.