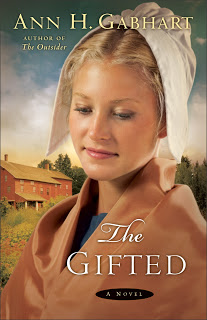 June is almost here. That means July can't be far behind and that means – drum roll, please – a new Shaker book. The Gifted is scheduled for release on July 1. My fifth Shaker book is set in my Shaker village of Harmony Hill in 1849 with a whole new set of characters. I did carry over one character from The Believer. Sister Lettie. In The Believer, she served the community's medical needs. Her father had been a doctor and taught her much about healing and the use of herbs and potions. She plays a major role in The Believer. Much older now, she has more of a cameo appearance in The Gifted, but I think readers will enjoy spending a little time with her again.
I'm hoping readers will enjoy getting to know my new characters too. In each of my Shaker books, I've done my best to tell the stories of very different heroines. First there was Gabrielle Hope with her gift of knowing in The Outsider. She started it all with the Shaker books. Then in The Believer, Elizabeth Duncan simply wants a safe haven for her and her siblings. Southern belle Charlotte Vance was definitely not the average Shaker in The Seeker. And last summer Lacey Bishop got to tell her story with a generous supply of common sense in The Blessed.
Now in The Gifted, I introduce Jessamine Brady, who is an engaging mix of innocence and curiosity. Tristan Cooper, on the other hand, has just returned from the Mexican War and is wearily looking toward the future his mother is insisting he must have. Then there's Sister Sophrena who does her best to see that Jessamine keeps following the Shaker way even when the girl's wondering about the world outside the Shaker village completely exasperates her. The storms of life will keep them all spinning just as much as the Shaker believers spin and whirl in their worship dances.
A new book is exciting for me and I hope for my readers. An eBlast went out today with hopes that readers will order The Gifted at their favorite bookseller's website or ask for it at their favorite bookstore. Bookstore owners like to make their reading customers happy by getting them the books they want to read. I'm hoping The Gifted will be one you will want to read.
There will be more exciting events coming up in June. I'll be sending out a newsletter soon telling about my Celebration Giveaway for The Gifted. A new book is a fun reason to celebrate.
Thanks for reading. Remember tomorrow is the last day to throw your name in my May Giveaway hat. Then stay tuned for more fun.