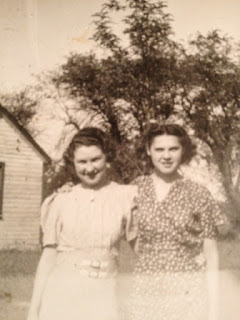 Eveyln on the left, Mom on the right
This is my mom and her older sister taken in front of the house where she grew up. I'm guessing Mom is maybe 16 or 17 here. For those of you who have read my book, Angel Sister, here are the two real people that became my characters, Kate and Evangeline. Mom didn't call her sister, Evelyn, Evie, but one of the other sisters did. So that's why I had to come up with a name that could be shortened to Evie since I didn't want to use Evelyn's real name. Then that helped the poetry come into play. That's how a writer's mind goes. This little bit of an idea leads to another little bit of an idea until you get the story built.
The plot of Angel Sister is completely fiction, but I built the background and setting from my mom's memories. That was hard at times because I had to separate my characters from the real sisters in order to tell my fictional story. But it was also fun and has made this book a story from my heart and from the heart of my mom. A lot of people downloaded Angel Sister when it was a free e-book last week. That was fun for me. If you didn't get a chance at the free download, the price for a download is reduced until the end of May. Plus you still have time to let me know you'd like your name in the giveaway for a print book (5 winners who will have their choice of one of my books). I'll do the drawing the end of May.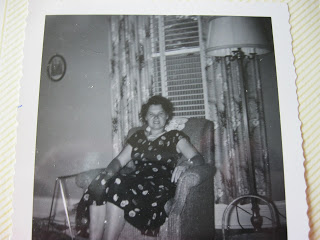 This is Mom twenty years later when I was just beginning to dream of being a writer. I thought she was beautiful and always wanted to look like her, but few people ever said I did. I look more like my dad. But the best thing about Mom was how she was always my biggest supporter while helping me learn to do things for myself.
That's a mama's job. Push the baby birds out of the nest when they're ready to fly. And yet somehow manage to keep being the wind beneath her child's wings. My mom did that. Taught me the things I needed to know and was always there for me with love and wisdom. She can't do that any more, but even now, even in the confusion of her dementia, she loves me and my sisters. It's just that she often drifts in time and now she really wants her mother to be there holding her and loving her. So my sisters and I try to love her through it but we're not good substitutes for a mother and the flashes of long past memories that are seeming so real to her. Some of those memories, or the echoes of them, are in Angel Sister.
Happy Mother's Day to all of you! What do you love best about your mom? And if your mom has moved on up to heaven, what memory of her makes you smile? What I always loved best about my mom was her cheerful attitude – an attitude that said something might be hard, but we'd figure out a way. We always did.
Thanks for reading.
.