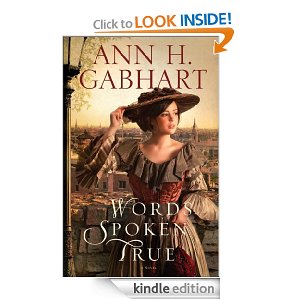 The price is right – free! Today, May 9 and tomorrow, May 10, those who have e-readers or an app on their phone or PC or whatever device in order to download books can download my newest book, Words Spoken True for the cost of $0.00. This picture of the cover is from Amazon. But it's free for Nooks from Barnes & Noble and for other e-readers on Christianbook.com as well as other e-book sites.
I don't have an e-reader yet, but I've heard great things about them from some and "please, just let me have a real book" from others. There are so many different ways to read now. Did you ever think that someday we might have to say "paper book" or "print book" when we talked about a book? The same with bookstores. Now we say "bricks and mortar" bookstores. You know, there is one constant in life and that is everything changes. Maybe not spiritual things. The Bible does promise us the Lord is the same yesterday, today and tomorrow. But the physical realm is in constant motion.
When I started writing, I dreamed of having a typewriter. Then it was an electric typewriter. Then an electric typewriter that had a correction ribbon on it. That's when I thought I had it made! Those of you who never had to roll up the typing paper to make an erasure before rolling it back down and hoping the paper hadn't slipped have no idea how much I loved that correction ribbon. Add to that places where you could go get copies for a few cents a sheet and throw away that carbon paper. I was in writer heaven. Some of you are probably frowning and saying "What's carbon paper?" I don't even want to think about it long enough to explain. Google it. 🙂
Not long after that, computers began to filter out of offices into homes. I got a rebuilt one and the way I wrote changed once more. On and on the changes come. Now there are devices for reading books. With a few clicks you can bring a book right to your fingertips. Most of them even have sound effects so you can hear the page turning – electronically.
You can get free books all the time. So much so that some people with e-readers have probably never actually bought an e-book. How about you? If you have an e-reader, have you bought books or do you just track down the free ones? Free is an excellent price and a great incentive to try a new writer.
That's why the publishers offer the free books from time to time. They hope to find a writer new readers. Angel Sister was free Monday and Tuesday and is at a reduced price until the end of May. Now Words Spoken True is free until the end of Thursday, May 10, and then its price will also be reduced until the end of May. It's been fun having the free downloads available. Angel Sister even topped Amazon's free list. Words Spoken True hasn't climbed that high. Right now it's at number 25.
You might wonder why an author would want her books to be given away free. After all, writing these books is my work. But it's also my passion and I want somebody, actually a lot of somebodies, to read my stories. In most of my books on the acknowledgement page, I thank you readers for adding your imagination to mine in order to make my characters come to life in your minds and heart. As this quote from Lawrence Clark Powell very clearly says, "Unless their use by readers bring them to life, books are indeed dead things."
So we have a partnership – you and me. And this week I hope I've gained some new partners. You can download Words Spoken True too if you have one of the reading devices, but you'll have to hurry. The free ends tomorrow. If you're old fashioned like me and don't have an e-reader, you can throw your name in the hat for a "print" book. I'm picking five winners at the end of May and the winner can choose which of my books he or she wants. Just leave a comment with your e-mail or send me an e-mail from my website.
I also sent out a couple of newsletters about the free books and other things. If you want to be on my newsletter list, let me know. As always, thanks for reading.