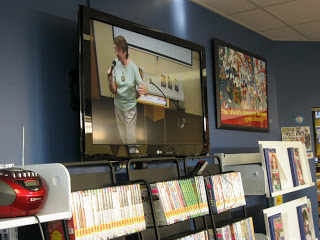 The closest I'll ever get to the big screen!
As every thread of gold is valuable, so is every moment of time. ~ John Mason
Can you believe I let Wednesday slip past me again? And this time I went to church and everything. But it was a busy day and not the best day for part of the day. Many of you know that my mother is suffering from dementia. Yesterday was a bad day for her. She was angry and unhappy for much of the afternoon. Some of you who have experienced this with your loved ones understand. It is difficult to see someone you love sliding into confusion. It is difficult for the loved one too.
So that's one reason Wednesday slid past unblogged. Another reason is that I am working hard to get my goal of so many words each day on my work in progress. That means that every extra minute I'm staring at the computer screen trying to get the scenes in my head to show up there on that blank screen.
Today was better for Mom. So better for us, her daughters. It was fun for me too in a different way because I got to go to Ft. Knox. Where the gold is. I didn't get anywhere near the gold depository, but I was in a place where they had a different kind of gold – books, books and more books. The Ft. Knox Barr Library. If I had to ever make a choice between books and gold, I wouldn't have a bit of trouble choosing. Books, of course.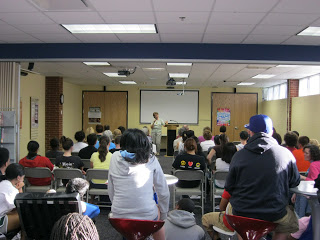 The library there is hosting author events once a month through October. What fun for the authors and readers and librarians! I was the launch author and look at me up there on the big screen. Good thing I couldn't see that or I would have probably freaked. I did know they were televising it on their closed circuit out in the main library in case the room was too full and they had an overflow crowd. When they tell me that while showing me I can't get out of this little square behind the podium, I'm going, yeah sure, but then people kept coming in. Of course, it helped when a church's book club showed up seven strong. Then a teacher at the local school gave her students extra credit for coming. That filled up the back of the room. It might have also helped that the library was offering a great incentive for their series of author visits. They had cards they were punching for the attendees and anybody who makes it to all the events will have a chance to win an e-reader.
But whether they came for school credit or a chance to win a Nook, it was still fun to talk to a room full of people. And I didn't see anybody dozing off on me. However, it is true that I couldn't see those sitting on the floor in the back. But I didn't hear them snoring!
Now I can say I've been to Ft. Knox. A great place to be made aware of the many soldiers ready to stand in the gap for freedom.
Somebody poke me next week and remind me when it's Wednesday. I always enjoy hearing from you. You can tell me what you know about Ft. Knox or if you have a family member serving our country. The lady at the library said they were getting ready to send some troops off to Afghanistan very soon. May our prayers go with them.
Thanks for reading!