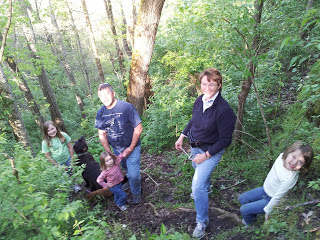 What happened to Wednesday? I was walking late this afternoon and I suddenly realized that uh, this is Thursday. That meant I had forgotten talking to folks here on One Writer's Journal on Wednesday. Of course, the best thing about a journal is that there are no deadlines. You can write when you want, what you want, as much or little as you want.
However, when I started this on-line journal, I did say I'd come visiting on Sundays and Wednesdays. I picked church days to help me remember, and now, alas, I know what happened to Wednesday. I didn't go to Bible Study last night or stay at Mom's overnight. That's what I usually do on Wednesdays. But I'm beginning to feel the pressure of the deadline for my work in progress and since I am spending a lot of working hours caring for Mom, I have to scramble for working time at my desk. Even so, I had planned to go to Bible Study last night, but then an acquaintance passed away and my husband decided he needed to go early to make a visit to the funeral home. And I copped out. I decided if I was working at a store or a restaurant and needed to work, nobody would think twice about me working instead of making it to church. That doesn't quite make up for the poke of guilt I feel not making it to church, but it was my rationalization. We can rationalize almost anything if we work at it. Whether we should or not!
But that hits on one of the hardest things about being a self-employed writer. Keeping those hours to work. Books don't write themselves, but when you work from your home, whether it's writing or whatever you might do, you have to be disciplined. And you have to stand up to others for your working hours. Things are difficult for me now with Mom's deteriorating health, but I've always had to carve out time from my busy life to write. I told a book club group the other night that I wrote my first novel while Captain Kangaroo was on. Then it was during school hours. Now all my kids are out on their own and I have to carve out time from my working schedule for those grandkids.
That's what I was doing in the picture up top – taking a walk with my son and some of the grandkids. It's always a balancing act. Whatever we do, whatever kind of work. Work and family. Work and fun. In writing there is even more balancing to do. Writing and promoting. Writing a good book is the most important thing I can do to gain readers, but after I do the best job of that I can, then I have to try to let interested readers know about the book. That means newsletters and Facebook and Twitter time keeping up with my reading friends and letting them know what's going on with me – that I do enjoy. Blogging time – that I also enjoy. Contests to promote my books. I love giving stuff away.
Then there are book fairs and book clubs – two of my very favorite ways to meet readers. Add into all those the many other tasks of writing on top of churning out that first draft of a book like editing and coming up with discussion questions and promo bits and doing blog visits. In fact I'm visiting a blog now i blog 4 books where you can leave a comment to have a chance to win a copy of Words Spoken True. Brooke in the interview asked what was my pet peeve and so people have been sharing their own pet peeves in their comments. So it's fun.
Be assured, I'm not complaining. I love writing and meeting readers. I went to a book club last week. Had a great time hearing what they had to say about Words Spoken True and answering the questions they asked. Saturday I'll be at the Southern KY Book Fest in Bowling Green, KY from 9 a.m. to 3 p.m. CST talking to people one on one about my books. I'm on a panel about Christian fiction at 1 p.m. If you're in the area, I'd love to talk to you too.
I've been keeping up with some of the questions people have been asking me lately. I'm going to be answering some of them in detail on here in the next few weeks. So if you've got something you always wanted to know about writing, but were afraid to ask, now's your chance.
Thanks for reading my Wednesday post on Thursday. 🙂 If you work from home, what's the hardest part of that for you?
.