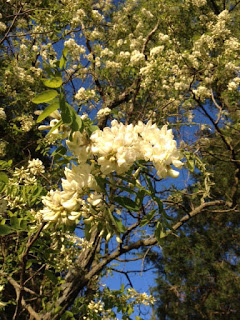 Sweet aromas – do you have a favorite flower scent? We all know many roses smell delightful. And lilacs are heavenly. But what about locust tree blooms?
In Kentucky in the spring we usually have several cold snaps before spring finally comes to stay. So we call them winters. Redbud winter. Dogwood winter. Locust winter. Blackberry winter. The names come from what's blooming when the chilly air sweeps back into the area the way it did last week. We skipped redbud winter this year – it stayed warm, unseasonably warm all the time they were blooming. But the frosts came back last week while the dogwoods and locusts were in full and glorious bloom. Dogwood blooms don't have an odor, but ah, locusts. So sweet.
The house where I grew up was surrounded by locust trees and in the spring we could breathe in the fragrance through our open windows. We also stepped on the thorns when we were running around barefoot and some think the trees draw lightning, but you have to take the bad with the good sometimes. As to the trees drawing lightning, I don't know if that's true or not, but I do know they got hit by lightning frequently.
I liked the fragrance of the blooms so well that I used it in my novel, The Scent of Lilacs. Now you're frowning and saying, wasn't she talking about locust blooms? And I was. But lilacs are wonderfully fragrant too. So I used that in my book too. The locust bloom fragrance was Jocie's father's favorite scent and what he smelled when he received his unusual call to preach while in a submarine during World War II. Then later in the book, Jocie has her own unusual experience with the lilac fragrance.
All this to get around to the exciting news I got this week that the Hollyhill books are going to be re-released. First Scent of Lilacs will make a re-appearance early in 2013 with Orchard of Hope and Summer of Joy to follow later in 2013 and 2014. The series title will be "The Heart of Hollyhill." What great timing – to get this great news while the locusts are blooming! I love the characters in these books and I'm looking forward to sharing their stories with new readers.
Have you read any of the Hollyhill books? If you have, which characters did you like?
Thanks for reading. I always enjoy your comments and appreciate you coming to visit here.