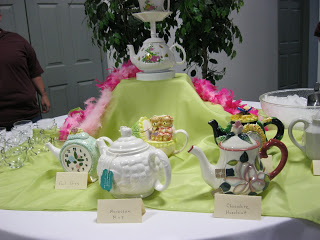 "Come, let us have some tea and continue to talk about happy things." ~Chaim Potok
And what's more fun to talk about while you're drinking that cup of tea than books? That's what I got to do today at a "Novel Tea." I was excited when I got my first e-mail from Lisa Jones, the librarian in Grayson County, KY, saying they were planning to have a book event and it was going to be a tea and would I like to come speak. Since I'm a tea lover and a book lover, I was on board at once. Now if they'd had a dog show on the side, the day would have been perfect. Just teasing. Those dogs would have wanted all the treats. (grin)
Of course, after the lady said they were going to sell tickets, I told her I hoped the tea would be good because I couldn't imagine anybody buying a ticket to hear me talk. I don't think they did. I think they bought the tickets to enjoy the tea and scones. Aren't those teapots in the picture at the top cute? Each one had a different flavor or type tea. I went for the English breakfast tea because I like my tea strong without added flavor.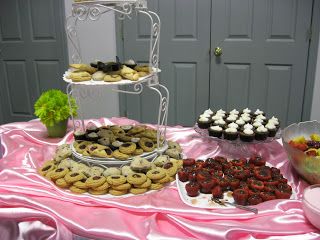 They also had wonderful desserts and the caterer was a woman after my own heart. She put the desserts at the start of the table so you picked up your plate and could load up with the sweet things before you got to the healthy relish tray and sandwiches, etc. After all, life is short and the plates were small. This way you got to allot the proper space to the best part of any tea – the sweet concoctions.
Actually, the best part for me was meeting so many new reading friends and getting to tell them about my books. After I talked about my writing life, we had time for questions. That's always my favorite part of any talk if the people aren't too shy to ask whatever they're curious about regarding writers or writing. Grade school kids do the best job asking questions. They want to know everything! Adults are sometimes slower to raise their hands. But a question I got today that I nearly always get is how long does it take me to write a book. My stock answer is about a year, but I have written books in six months and this summer I'm going to need to write a story in two months. Thank goodness it's a Christmas story that will only be about half as long as most of my stories.
Another question was about whether I work regular hours or wait until I feel a creative burst coming on. Some people may be able to wait for their muse to show up, but most of those muses are onery creatures who dillydally and don't come knocking on your door that often. You have to go out and grab that rascal and wrestle him into your office or workplace. How I do that is by spending a lot of hours with my fingers on the keyboard. That way your muse will realize you're serious about this writing stuff and reluctantly begin showing up more often.
What question do you wish you could ask a writer? My answer and other writers' answers might be very different since writing is such an individual pursuit with many ways to write a story. But it's still fun to ask questions and I enjoy answering them too.
Thanks for reading. Maybe we can all have tea together someday and talk about books!