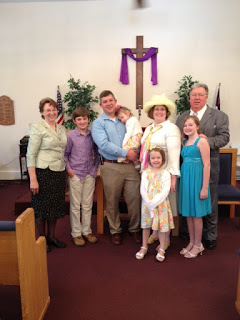 Let
the resurrection joy lift us from loneliness and weakness and despair
to strength and beauty and happiness. ~Floyd W. Tomkins
Churches all over the country celebrated Resurrection morning today. At our little country church, we began the morning with a Sunrise Service. Our pastor has been doing this for a number of years now and he always delivers a sunrise message as if he's one of the Biblical eye witnesses to the first Easter like Peter or John. Today he picked Thomas. That meant he had to do a lot of digging into books other than the Bible because other than the listing of Thomas as one of the disciples, he's only mentioned three times.
Of course, most people familiar at all with the Bible know that he was the disciple not present when Jesus first appeared to the disciples after His resurrection. When the others told him they had seen Jesus, Thomas said unless he for himself saw the nail scars in Jesus' hands and put his hand in the wound in His side he wouldn't believe it was true. Forever after, even to this day, we call anyone who is slow to accept whatever facts or story a "doubting Thomas." But as Br. Fred, our pastor, said this morning, who among us would not have had some doubts about a man we knew had been killed now walking around alive? Thomas made a confession of faith the moment he saw Jesus. Isn't that all the Lord asks of any of us? To meet Him and recognize Him as Lord.
I enjoy Br. Fred's interpretive messages as he always helps me see new insights in the Bible stories. For the eleven o'clock service, he delivered a different message to a fuller church as not all our families can make Sunrise Service. My younger son and his family were able to make the second service. Since the out-of-state families were home last Sunday for an early Easter dinner and celebration, they couldn't come back today. But it was fun seeing this family of grandkids in their Easter best before they took off for their other grandparents' house and an Easter egg hunt on a lot nicer day. Remember, that April Fool's rain messed up my Easter egg hunt last Sunday. 🙁 I'm glad everybody had better weather here today.
I hope you had a blessed and joyous Easter. And some fun times with your family. Have you eaten jelly beans or chocolate today? Did you dye hard boiled eggs with your kids or grandkids? Did you watch the sun rise with joy in your heart?
Talk to you Wednesday.