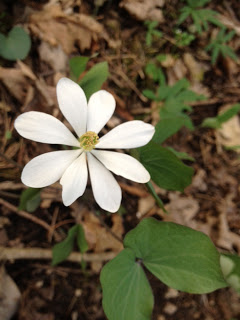 To every thing there is a season, and a time to every purpose under heaven. – Ecclesiates 3:1 (KJV)
It's March 21, the second day of Spring by the calendar. Normally, this time of the year we're having windy and chilly days here in Kentucky with frosts at night and five different kinds of weather in the daytime. We can have sunshine, snow, rain and sleet all in the same hour in March and the winds can be cutting. Not this March. This March we're having a week long (so far) preview of June with record breaking temperatures in the eighties. The flowers are poking up out of the ground and going, "Oh my, I must have overslept!" And so, they are hurrying to catch up to the sun.
I've never seen so many different kinds of wildflowers blooming this early in the year. The one above is a twin leaf flower and it is one of the earlier bloomers. But early as in April. Not the middle of March. Even my mom's favorite flower growing wild over at the Rock, the Dutchman's breeches, are blooming all over the hillsides. I saw a few that had bloomed and were already turning brown. Made me want to say wait a minute. It's not time for you to even be blooming yet and you're already fading.
But the seasons come and go as they please. Whether we'll step back into winter, I don't know. It could happen. Generally we face a chance of frost here until May. But then generally we don't have a whole week of eighty degree weather in March.
It's not only the early blooming flowers making me want to grasp a few days and try to slow things down. I got a titling questionnaire today for the book I'm working on. Not yet, I wanted to say. How can I think about titles when the story is still seeping into my writer's well? But it's time. To every thing there is a season. Now in the life of this book I'm writing, it is the season for titling. In publishing every thing has a time to get done. So, with some imagination and a great deal of hope, I will tell them about my story that is yet flowing out of my thoughts and through my fingers onto the computer screen. I will describe my main characters and the clothes they're wearing. I will suggest words that might make a title sing. And I will continue to write my story and hope the season for writing is as full of flowering thoughts as our early spring is of blooming flowers.
What have you seen as an early sign of spring? Or perhaps it's still cold and snowy where you are. But spring will come. For every thing there is a season. And spring is a season many of us welcome.
Thanks for reading. I appreciate each and every one of you.