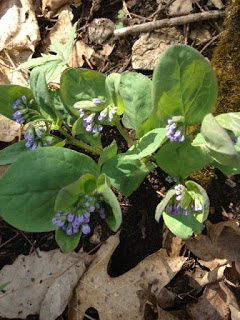 "There are always flowers for those who want to see them." ~~Henri Matisse
Spring – what a beautiful time of the year when hope takes wing and we simply know that something good is going to happen. Actually, official spring is about a week away, but the sun has decided on pushing spring toward us a little earlier this year here in KY. It was nearly 80 degrees here today. Flowers are popping up out of the ground, ready to burst into bloom. Trees are budding out.
And those of us familiar with KY weather are enjoying the sunshine and flowers even as we worry about the frosts to come that may steal our blooms and our fruit. But as the saying goes, worry is like a rocking chair. It keeps you busy but it doesn't get you anywhere. It is definitely true that there is not one thing I can do about the weather and there's no need at all worrying over what might come. All we really have is right now.
Right now, today was a beautiful day. Right now today, flowers are bursting forth. Right now today, I pulled out a few more words to add to my work in progress. Right now today, I got a sweet message from a reader who had just finished The Outsider. Said she read it while she walked on her treadmill and thanks to me she had gotten in a few extra miles when she didn't want to stop reading.
Right now today – well, actually yesterday – I walked to the Rock to check out the flowers and the hillsides were dotted with white blooms. The creek was full and running. My dog, Oscar, and the neighbor dog, Roxie, kept me company. A wild turkey escaped their notice and made it into the woods without being chased. The day was good.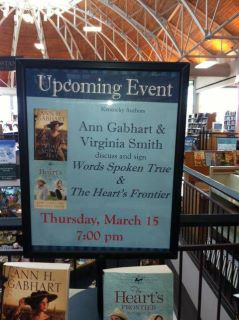 Right now today – well, actually tomorrow – I am going to be sharing the microphone with writing friend, Ginny Smith at one of the nicest bookstores in the area, Joseph Beth Booksellers. She's even got a few friends who have promised to show up in spite of the fact that Kentucky plays WKU in the NCAA tournament at exactly the same time plus the Boys Sweet Sixteen Basketball tourny is goin on in the same town. Right now, I'm glad I have a recorder so I can record the game to watch later!! If Kentucky wins. I won't want to see it if they don't.
Right now, I'm hoping my story is waiting to burst forth like the flowers ready to bloom. Right now, I still have two pages to write to meet my daily writing goal. Right now, I think I won't have to sit up half the night to meet my goal. Right now.
What's happening in your life right now? Good things, I hope. Blessings abounding. Hope sprouting in your heart like flowers pushing through the deep layer of last fall's leaves to shout spring is here. Good things happening. Right now! Even if the calendar does say it's still winter.
Thanks for reading. Right now, I'm glad you're one of my reading friends.
By the way, I did finally get in touch with Anna S. of Iowa, the 2nd place winner in my Words Spoken True Louisville Celebration giveaway. She won the Louisville stoneware cup and the Starbucks coffee and flavored tea. Also, on Jeopardy tonight one of the questions/answers was Derby Pie and none of the contestants got it even though I was shouting it at them. 🙂 But my first prize winner would have, since she got a piece of that pie in her Kentucky breakfast basket. She told me she ate the pie as soon as she got the basket. She knew how to enjoy the moment right now!