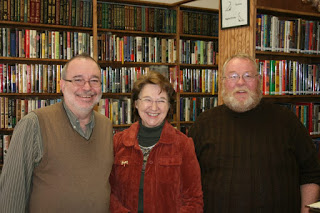 What's in a name? How many times have you been introduced to somebody and the person's name made a jet fast trip in one of your ears and out the other? The same with some restaurant or store you hear advertised and plan to remember. Then later, you can't think of the name of the place for the life of you.
Well, my friends, Andy and Michael, the two guys smiling with me in the picture, aren't going to have that trouble. They came up with a great name for their book store. Two Bears and a Dog. I did a book signing at their store Saturday in Horse Cave, KY. From the first day I met Michael months ago at the KY Book Fair, I haven't forgotten the name of the book store.
That's good for me, because sometimes I'm not too sure I'm remembering my own name. No lie! We were talking about middle names on Facebook last week since it was "Middle Name" week or something. A time to admit and embrace your middle names. Got lots of fun comments about middle names.
To get the ball rolling, I was going to tell everybody my middle name, but there was a problem. I couldn't remember for sure how it was spelled. It's been years since I'd written it as part of my name because I use my maiden name as a middle name now. It seemed the least I could do since my dad didn't have any sons and he grieved about his name not being carried on.
But my middle name is Bernice. That's the way my mother spelled it when she gave it to me. At least, I think it is. Actually, I'm perfectly sure it is now, but I wasn't all that sure for a few minutes when I first thought about it the other day. Guess it's a good thing I have such a simple first name.
But then when I went to Horse Cave, KY Saturday for a book signing at a book store called Two Bears and a Dog, I figured I'd hit the jackpot in the name department.
I love names. I work hard to come up with the exactly right names for my characters in my stories. In the original draft of Words Spoken True, Adriane was named Allison. I have no idea why she changed her name, but she did. And then in The Gifted, the Shaker book due out this summer, I wrote at least a fourth of the book about a girl named Isabella. But she never felt comfortable with her name. Finally she shook it off and became Jessamine. It wasn't until then that she came fully to life in my head. Thank goodness for the find and replace capabilities of a computer.
Last week I also got an e-mail from someone from Soddy-Daisy. That wasn't a KY place name, but our state has plenty of those kind of odd names for places too. The little community of Alton here in my home county that I base my fictional Rosey Corner on was once called Rough and Ready. Then somebody decided that wasn't a proper community name. The citizens of Horse Cave tried to do that too back in the 1870s. They changed their name to Caverna, but the railroad people wouldn't go along with the name change and kept calling the stop Horse Cave. After ten or so futile years of trying to be a town with a more sophisticated name, they went back to being Horse Cave. Any of you read Cold Sassy Trees? Seems that was one of the story lines in that book. A town in search of a better name.
What about you? What oddly named places have you visited or seen? Or share your middle name. Maybe you'll at least know how to spell yours!! Let's celebrate names this week.
Thanks for reading. Love it when you come to visit.