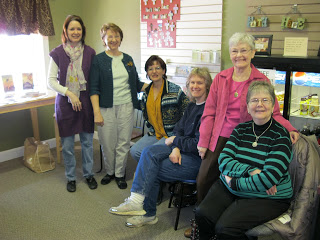 February and March have been busy book months for me with the release of Words Spoken True. The book went on a blog tour and has gotten over fifty reviews so far. Most have been very positive which is nice for this writer since the book is very different from my other recent books. You never know if readers are going to be willing to follow you along a different story trail. I'm thankful so many of you were willing to try something different, because I like writing different types of books.
But not only the book went on a blog tour, I did too, visiting numerous blogs to talk about Words Spoken True and do some interviews. I've been a regular at our post office sending out books to this or that person who won a book by commenting on one of those blogs I visited. And I still have a couple of interviews promised that I haven't done yet. I love talking about books. My books and other books too.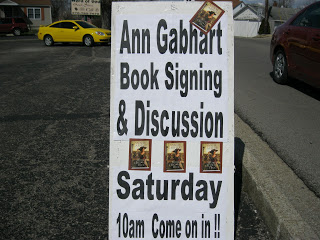 That's what I was doing with these lovely ladies above. We got together at the fabulous Word of God Christian Book and Gifts Store in Elizabethtown. Michele Brown was nice enough to ask me down to talk about my writing with some of her customers.
It is always enlightening to hear what readers have to say about the books they read – especially when they're talking about a book I wrote! One of the ladies there said she didn't like my ending and when she explained her problem with it, I could see her point of view. That didn't make me wish I'd written the ending differently. I think what happened in the story is what happened. That's the way stories are for me. I write down what happened. But it was interesting seeing the story from her perspective.
Some of the ladies had read my Shaker books, so of course, we did some Shaker talking too. And they told me what they liked in the books they read. I asked them if they liked romance in their stories and they said yes. I asked them if they liked sad endings and they said no. I asked what they liked best about the stories they read and they said characters they could like. I certainly could go along with that. Who wants to read a book about characters you don't like? So I had a great time talking books with reading friends in E-town.
This coming Saturday, March 10, I'm going to be going down that highway again. This time to Horse Cave, KY for a book signing at the Two Bears and a Dog Book Store. I doubt if I'll ever visit a book store with a better name. I am scheduled to be there between 1 and 4 p.m., so if you're in the area, drop by to see me and meet those "bears" and a dog. Then next Thursday, March 15, I'll be at Joseph-Beth's Book Store in Lexington with my writer friend, Virginia Smith to talk about and sign our new books. Ginny's latest release, A Heart's Frontier has been getting great reviews. We'll be sure to have plenty to talk about with our Lexington, KY reading friends.
One of the questions I asked on one of my blog visits was "What question do you most like to have an author answer in a blog interview? Or what question do they never get asked that you would like to see?"
I sent out my prizes for the Words Spoken True Louisville Celebration Contest last week. Well, two of them. I still haven't heard from one of the prize winners. Anna S., if you're out there, please check your e-mails. I may have to redraw for the 2nd place winner if I don't hear from Anna soon. But I got this neat note from the 1st place winner, Jodi K from Wisconsin, about the basket of KY breakfast goodies she won. "I received the gift basket today. The derby pie was heavenly and I did not share. I can't wait to make breakfast this weekend." Glad you enjoyed the pie, Jodi!
Thanks for reading, everybody. What question would you like to see answered in the writer interviews you read?