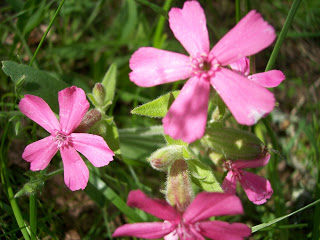 Okay, so I took my camera to my Hometown Book Launch today and forgot to take even one picture to share with you, my cyber friends and neighbors. I could have at least taken a picture of those brownies I baked for my reading friends. But I was too busy talking to think about pictures. So you get a picture of Spring instead. Soon we'll have flowers like this blooming in the warm sunshine. March is mere days away and the flowering time of the year won't be far behind.
It was fun having a book party with my hometown friends to celebrate Words Spoken True. I started doing these hometown book events when The Scent of Lilacs was published in 2005. Since that book's setting was my hometown back in the 1960s, I thought the least I could do was have an event for my local readers and friends. We might not be able to actually go back to the Sixties to party, but we could gather in the antique portion of the public library and celebrate me having the book published and Lawrenceburg getting a little book time. Of course, I did change the name of the town to Hollyhill. As I tell my Lawrenceburg friends, the Lawrenceburg series just doesn't have that pleasant roll off your tongue sound that Hollyhill has.
Once I started the book party tradition, I enjoyed it too much to stop. Before The Scent of Lilacs was published, I wrote for several years without any publishing success, so now I want to celebrate every time I'm blessed with a new novel out for readers. Plus, it's just plain fun talking about my books with friends. Where I used to quake and tremble at the thought of standing up in front of a group of people and talking, now I love it. I feel as if we're having a conversation. I do end up doing most of the talking, but I'm always ready to pass the microphone off if a friend has something to say.
I had some new friends show up today and some of my regulars, who have shown up for nearly every book party I've had, didn't make it. Maybe they've heard my story enough. Words Spoken True did have an interesting path, and a long one, to publication. Maybe that can be next week's post.
As I told you last week, Words Spoken True has been flying around the internet gathering reviews like my little cockerspaniel used to go out on the farm and pick up sticktights. The reviews have flooded in. Most of them have been positive. Some have withheld a few stars.
Here's one of the nice ones. I have a couple of reasons to like this one. First she says nice things about my book. Second, in these days when authors are often pushed to establish their brands, she doesn't mind my books being different. I've always wanted my brand to be "storytelling."
"Ms. Gabhart has seemed to carve a nitch for herself in writing
deeply moving and emotional stories that touch on faith and on
your soul. WORDS SPOKEN TRUE is a beautiful and enlightening
read that I highly recommend."
—Marilyn Rondeau, CK2s Kwips & Kritiques
http://www.ck2skwipsandkritiques.com/2012/02/14/
review-words-spoken-true-by-ann-h-gabhart/
So at my book party today, we ate the brownies. We talked books.
I enjoyed seeing friends and family. I looked over some of the
reviews coming in when I got home. I wrote this blog post. I
counted my blessings and you're in the number.
Thanks for reading.