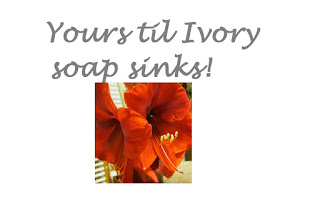 Do you remember these kind of sayings? "Yours til' Ivory soup sinks." Do you remember Ivory soap? It's still on the store shelves and it still floats. So whoever wrote that promise in my little autograph book when I was a kid must still be mine. The autograph books were sort of a fad when I was in grade school. A lot of us girls carried them around and begged people to write something in them. Like a love poem. "Roses are red. Violets are blue. Angels in heaven know I love you." Or shorter little promises like the one about Ivory soap. Another one I remember is "yours till the ocean runs dry." There were more. Some sweet. Some silly.
Not too long ago, I came across my old autograph book from when I was maybe ten. If you're old enough, you probably have one stuck away somewhere too. Boy, did mine bring back memories as the youthful handwritten entries stabbed me with their innocence.
I was going to take a picture of it for this post tonight, but naturally, I put it up somewhere for safe keeping. Now it's safe from me since I have no idea where that safe place is. But Valentine's Day started me thinking about those cute verses. " When you get old and cannot see, put on your specs and think of me." " 2 good 2 B 4gotten." "Yours until elephants roost in trees."
Hope you got a card with a verse that made you smile and feel loved. Or maybe you got candy and flowers. Or just a treasured call from a friend or family member. Most of the restaurants were hopping last night as couples, friends, and families enjoyed a night out. Darrell and I went to a local Mexican restaurant where they had taped fresh roses and balloons to the ends of the booths. At the end of the meal, they presented us with a free ice cream dessert and two spoons. Not exactly a candlelight dinner experience, but fun. So many ways to celebrate love.
One of those ways is by writing blog posts and giving away stuff. I'm visiting Sunnybank Meanderings today talking about "Romances to Remember." And I'll be giving away an autographed copy of Words Spoken True to one of Caroline's commenters. Revell Books and I are also sponsoring a Louisville themed giveaway because that's the setting for Words Spoken True. Here's a picture of the second place prize in that giveaway open for entries all month on my website and here on my blog too. Just click on the book's cover to go to the entry form. I'm also doing a newspaper related giveaway at Fresh Fiction. A newspaper book bag and some books. So lots of ways to win with several more guest posts to come in the next few weeks.
It's fun visiting other blogs to talk about Words Spoken True. Since it's Valentine's month and my book is definitely romantic, I've been talking about romance. It's not easy to come up with a fresh post each time I visit a new place to talk about my book. The story in my book doesn't change. I still only have my two main characters to talk about. The same background, the same historical happenings. And I can't tell the whole story. I want you readers to have to read that for yourselves.
Me and you – we're a partnership. I write the stories out of my imagination, but it takes your imagination while reading the stories to truly make the story circle. Thanks for reading tonight and making our friendship circle. So glad to have you as reading friends." Yours until Niagara falls." Maybe I'll have an autograph book two entry on Wednesday. Lots of great info out there on the net about those old autograph books.