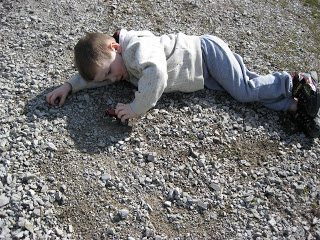 It's been a grandkid weekend that started on Thursday night and won't end till late tomorrow night. A couple of the kids are a little homesick. The other two aren't showing much signs of wishing for home. But for sure, I'm one tired grandmom. The twins are sweet as they can be, but two three-year-olds keep you on the move. Especially when they know how to open the doors. I've had to keep my ears tuned for the sound of knobs turning. Barefoot right out in the rain – no problem for them. They love it outside. And two of them like the dogs while the other two are just as happy to keep the dogs back. Of course, the twin who likes the dogs is the one who's allergic to them. Naturally. The six-year-old asked me if she could have Oscar – my big black dog. I said no way. Her dad would have said no way even faster – for different reasons.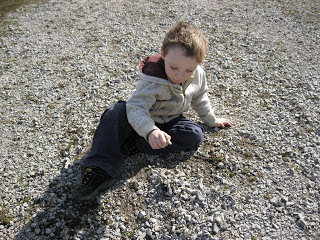 Both the boys like to play with cars, but the one in the picture above likes watching those wheels roll. Just the same as his dad did at that age. His dad would lie on the floor and roll his cars or lie on the ground – whichever and watch those wheels the same way. So it's sort of like going back in time to see this little fellow do the same. The other twin likes cars too, but instead of rolling it, he's burying it in the rocks. That's the thing about kids. They're all different. Even when one echoes the past, he's still different – his own unique person.
That's one of the fun things about having several grandkids – seeing how they are different personalities. Having several makes for a grandma who needs an extra pair of hands. Maybe two extra pairs of hands. I did have help this weekend with my daughter here for several days and then grandpa came home from recording a new project with his gospel group. And he's helping guard the door and has had a lap full of grandkids most of the day.
It's also been my book release weekend, but I haven't had much time to think about that. I have had a couple of guest blog posts go live. In the one yesterday, I talk about my romance with words. It's at RomCon and if you want to go make a comment over there, you'll have another chance to win an autographed book along with a box of Bauer's Modjeska candy. So far, your odds of winning would be good. I've got several blog appearances this month. So it's a good thing I like words and putting them together.
Thanks for reading. Got to turn in and get ready for another full day of grandmothering. The eight year old told me earlier that I had to be nice to them because I was their grandmother. That was right after I made the two girls sit in time out. Oh, to be told to sit on the couch and do nothing for five minutes. It's all in the perspective, isn't it?