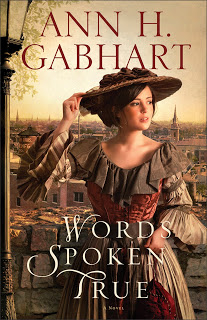 Today is release day for Words Spoken True. It's out there in the world of readers now. The cover is getting great remarks and now to see if what's between the front and back covers will make you readers happy. I feel like a mother bird watching her baby bird fly off into the great beyond. Well, I really doubt a mother bird worries too much about the baby birds after they fly away. She's too busy repairing the nest for the next eggs. So maybe I should be like the mother bird – not think about the book flying out there to readers, but start building the new book. Actually I am doing that. Building one word on top of another and feeding my characters with new ideas and situations to see if they won't develop wings that will carry them out to readers someday too.
But a release day is too rare not to celebrate a little. Some writers get more books out to market in a year than I do, but I'm thinking they are probably happy about every one. I'll have two this year. Two is good. Two is great! One is good. And there have been plenty of times in my writing career that one would have been great. It is fun to see your book for sale. It's fun to see the reviews start showing up. It's fun to get e-mails from readers who like your book. I had a note passed on to me from a Barnes & Noble community relations manager. She wrote " I read this book in two days – if I did not have to get up and be a functioning employee I would have read through the night. … Draws you into the story as if you were living, breathing and speaking with Adriane and Beck at moments." I mean, who wouldn't like getting a letter like that?
Every writer I know likes to hear that "I couldn't put it down" line. That's what keeps a writer digging the stubborn words out of her head to tell a new story. At least it makes us feel good after we've spilled the words out. I have to admit I'd probably be writing some kind of story whether I had any readers sending me encouraging words or not. That doesn't mean encouraging words aren't a boost and a blessing. They are for this writer.
Now it's time to announce the winner of my blog drawing. I really appreciate all of you who left comments here in January. I have such fun reading your notes and love it when you share stories with me. I gathered a lot of comments about the quilt, so I know the love of quilting is still going strong out there.
Okay, okay. I'll tell you the winners. I decided to pick two. Drum roll please. Virginia C. and Nancy D., you are my winners. I'll send you an e-mail for your mailing address. Thanks so much to all of you. We'll do this blog giveaway again soon.
And I've got that other giveaway going on my website now if you want to throw your name in the hat for that. I think I'm going to need a big hat. I sent out my newsletter today and the entries are rolling in. Also, I'll be doing some guest blogs and interviews in the next few weeks. Some of those will offer a copy of Words Spoken True to one lucky person who comments. So you've still got plenty of chances to win. The first ones are this weekend. You can also get a peek at the scene where Blake and Adriane meet on Chapter-a-Week. Check out the links on my website Event Page.
Thanks for reading. And tell all those groundhogs to stay underground and not come out and see their shadows tomorrow. Of course, it's already feeling like spring here, but I have a feeling winter will be returning.