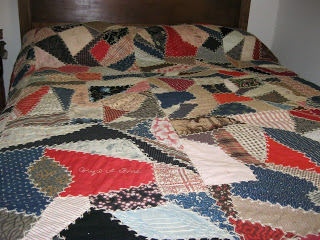 Quilts connect the past with the present and the future.
This is the bed I sleep in when I stay with Mom overnight. I don't actually sleep under this quilt. I very carefully fold it down and lay it aside. The quilt is well over 100 years old. It was a gift to my great aunt for her wedding. Her sisters and friends had a quilting shower for her. They each embroidered their names on a piece of fabric and then all gathered to sew the pieces together with more fancy stitches.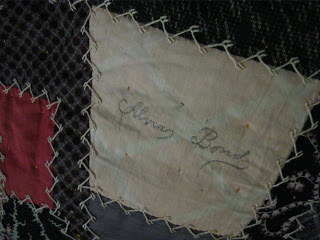 Here's my grandmother's name. I never really knew her. She died when I was two, but I can imagine her quilting her name here before she married – while she was young and anxious to fall in love and have her own family. Some of the other names are Ethie, Em, Hervie, Virgie. Old fashioned names. But young names at the time. Names of girls full of hope and laughter. You know they laughed as they worked to fit these crazy pieces together like a puzzle.
I love looking at the quilt. It's a unique piece of family history, an evidence of caring and fun. A very real piece of art. Everyday art for them at the time. But amazing art for me as I think about how they were able to fit all those pieces together and come up with a quilt that doesn't have odd corners.
I've always liked the crazy quilt patterns better than even the fanciest wedding ring patterns or basket patterns or whatever bit of amazing artistic design. The crazy quilt patterns speak to me.
"Our lives are like quilts – bits and pieces, joy and sorrow, stitched with love."
I guess that's why I like the crazy quilt pattern. It's like life. Bits and pieces in all shapes and sizes, but when stitched together, it makes the whole fabric of our lives. Writing is that way too. A book is pieced together with bits of stories from a lot of different characters. Sometimes you can't see how you'll ever fit the pieces together and maybe sometimes you'll have to throw aside a piece to use another time. But you have to get the important pieces – the ones with names on them – into the whole of the story. And the process can be crazy, but turn out beautiful sometimes in the end.
Thank you so much for reading. Remember, this is another (and your last) chance to leave a comment to be in the drawing for an autographed copy of Words Spoken True. I'll be drawing for the winner on February 1. So let me know what's crazy in your life right now or just say hello. I always enjoy hearing from you. And I'll be announcing a great new giveaway to celebrate the book's release that will have the flavor of the book's background.