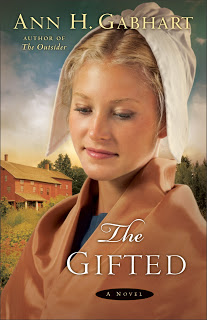 What do you think of Jessamine here? I don't often let my heroines have blonde hair. Mostly I want them to have dark hair or auburn hair. It goes back to when I was a kid and everybody was always talking about how cute the blue-eyed, blonde girls were. Me, I wasn't blonde. Me, I had eyes that couldn't make up their mind if they were green or gray or, as my son told me once when he was very young, yellow. I preferred to think of them as having flecks of gold. 🙂
So when I started making up stories, my characters, especially the girls, weren't blonde. My heroines might be blue-eyed brunettes or redheads, but definitely not blondes. That is, until Jessamine. Jessamine is beautiful with hair like spun gold and eyes the color of cornflowers. But that's not the best thing about Jessamine. The best thing is her spirit.
I've been editing The Gifted all week. I don't mind editing. Well, maybe I should "edit" that a bit. I don't mind editing – I even like editing – when it's my idea. Actually, I've been blessed with wonderful editors at Revell for all my inspirational novels and I've not resisted their suggestions to make the stories better except once or twice. Even then, after sleeping on the editor's suggestions, I began to see the light – the editor's light. An editor simply wants to make the story the best it can be. That's what I want too, so I start editing.
Most of the time, after thinking there's absolutely no way I can do whatever the editors want without having to rewrite the whole thing completely, I figure out a way to make the changes without that much angst. I usually end up agreeing that the editor was right. Sometimes that's almost like admitting your husband is right about something you've insisted he was wrong about for a week. Let's just say, it ain't always easy.
I didn't have that trouble with these edits. They were fairly simple and I found myself writing "Okay" in a lot of the comment boxes to indicate whatever the editor suggested worked. My editors have nudged me toward being a better writer, more aware of the mistakes I often make while writing. Like that pet word I seem to always bring along to every new manuscript. It's gotten so that every time I type the word "just" or "still," I start hitting the delete key. You'll never believe what my pet word or I guess I should say words were in this book. "Of course." Of course, it was. I'm through with the edits but I'll have to do a search for those of courses. I caught a few, but my eyes must have slid right over the others. My sweet editor counted them for me. You know, this technology stuff is too handy at finding a writer's props and knocking them out from under her.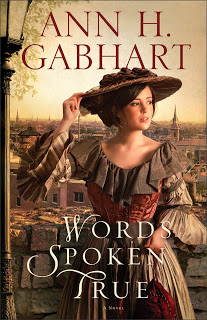 This is the last sneak peek I'm going to give of Jessamine until June. Got to think about Words Spoken True right now and I'm very excited about readers cracking open that book. Very excited! So excited that I'm coming up with a new celebration giveaway. I'll unveil the prizes soon. Before that, here's a giveaway just for those of you who read my blog. Leave a comment between now and when I receive copies of my new book in the next week or so, and one of you will win an autographed copy of Words Spoken True hot off the press. Each time you leave a new comment on a different post, your name will go in the drawing again. And if only one of you comments, then you know what? You'll have a pretty good chance of winning.
Thanks for reading. It's always good to have you come by to walk with me down my meandering thinking lane. Hope you have a great week.
Thanks