Image credit: jscreationzs
For last year's words belong to last year's language and next year's words await another voice. – T.S. Eliot
2012! That sounds so far into the future. Of course it isn't. It's actually the here and now. The first day of a new year. Each day will be a new page to write our own stories on. Some days will be sunshiny and bright. Some will be dull and gray. Some very busy. Some maybe relaxed and lazy. We may have some sad days, hard days, but then again, we will surely have good days, satisfied with our lives days. 366 days this year since it's a leap year. I've still never figured out quite how we can have a fourth of a day extra every year and keep those fourths all in reserve for that day in leap year's February. I know, I must be calendar challenged.
Since we're talking about challenges – we are, aren't we? – what challenges are you going to welcome in 2012. We need challenges to keep life interesting. Challenges and goals. I have some challenges lurking out there in the days ahead. Some of them I can see poking out from behind the shadow of the future. A couple of books to write with the words coming hard and not enough free writing hours in the day. Taking care of my mother while she slowly sinks deeper into the confusion of dementia. Finding the time for reading and renewal and rest. Other challenges that await me in 2012 are hidden deep in the unknown that will slowly be revealed day by day. It's up to me to prepare myself and be ready for whatever 2012 might hold for me.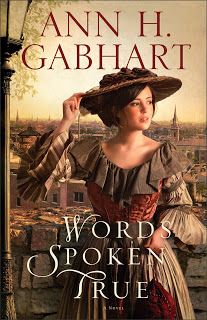 I know some good things speeding my way. Words Spoken True will release in a few weeks. I'm excited about a new book out there for readers. And this book is different – very romantic. Unlike the Shaker books that can't have much romance due to that pesky rule those Shakers had about men and women being forever separated. That makes romantic scenes difficult to come by, but I did find ways around that in the Shaker book, The Gifted, scheduled to come out next summer. But with Words Spoken True, I didn't have to tiptoe around the romance. I let it run a happy course right through the heart of the story.
I don't normally make resolutions. I do often examine my goals. What do I hope to accomplish with my writing? How can I become a better person? What steps do I need to take to move toward my goals? So no real resolutions to be quickly abandoned. Although I could eat better, lose a little weight, be more generous, get rid of clutter. See – when I start resolving I don't know when to stop and soon I'm overwhelmed and surrender to the hopelessness of it without much of a fight. Have you ever made resolutions that you kept? What sort were they? Resolutions to live healthier? Be kinder? Become more spiritual?

The quote above spoke to me. I do need to leave last year's words behind and find the new words, the new voice for a new story. Not always so easy to do, but I've done it before. I hope to do it again.
Whatever we resolve or don't resolve, I hope 2012 is a year of good things and many blessings for all of you and me too.
For those of you wonderful readers who entered my Christmas giveaway, I drew for the winners and have already sent these lucky winners e-mails. The winner of the music box and one of my books is Jeanne. Christine from FL can no longer say she's never won. She won a copy of one of my books and the Christmas book, Startling Joy. The other two winners, Christine of IA and Gina J. won copies of The Dog Next Door and their choice of one of my books. Then because I so enjoyed all your stories, I picked an extra winner out of those who shared their favorite Christmas memories. Angie C. will have her choice of one of my books. I wish I could send you all a book, but if I did that, I'd run out of time to write for sure. But I do appreciate those of you who entered. I'll be doing another giveaway soon to celebrate the release of Words Spoken True.
Meanwhile, Happy New Year! May 2012 have nothing but good things hiding in the dimness of the future ready to pop out at you. Thank you so much for reading and for commenting at times. I appreciate each and every one of you.