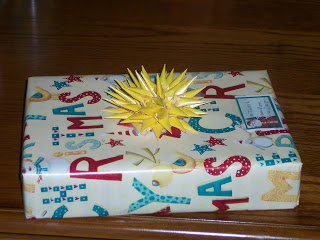 A ribbon memory
Christmas is a time for memories. A time when so many memories are made. Sometimes it's the little things we remember with the most affection. I had a very dear aunt who always made Christmases and birthdays special for me and my sisters. She never married or had children of her own, so she spend a lot of love on us. She would get a skinny little cedar tree out of the field – skinny because it had to fit in the corner behind the door. Then we would decorate it with some ornaments that had been around for longer than I had. Last we sprinkled icicles and dabbed a few pieces of angel hair close to the lights to give them a special glow.
You know about angel hair, don't you? One of my readers found out the hard way and shared her memory. Linda says her earliest memory was sneaking under her aunt's tree to peek at her gifts and getting her first introduction to angel hair. She figures she was about 4, but she's never forgotten how itchy the stuff was. Not what you would imagine for angel hair at all!!
My aunt would let us wrap our own presents if we promised not to peek. That was always fun and believe it or not I never peeked. Mostly because she had the boxes taped up! Wendie has a story about wrapping presents and how that turned into a Christmas tradition with a duck box.
Wendie's Duck Box
Wendie says that one year she decided to wrap a box top in window pane duck paper for her dad's birthday so it could be reused. Her mother thought it was clever and said they could use the box again. So they did. Every Christmas. Here's the rest of the story in Wendie's own words.
Sometime after 1985, the Duck Box resurfaced. Of course, Mom put Christmas paper over it and sent it to my house. Not to be outsmarted, I returned it the following Christmas. That began the "Duck Box" tradition. You never knew when it would appear since it was a standard size – like a dress shirt box. Some years, it held unexciting things like underwear, but other years, it contained the big present. The one you never expected and loved the best.
As the years progressed, the Duck Box took on personality. We couldn't be happy with plain old ducks. Mom got out markers and added festive Santa hats and holly. The next year, I put on sunglass stickers. Mom decided they needed polish on their web toes. One even laid a golden egg. And we didn't stop with the cover. Inside was tissue paper – with Christmas mail stickers, return address labels from our different houses, the original yellowed wrinkled tissue and a few Styrofoam packing peanuts thrown in for good measure. At some point, on the back of the box, we began marking the years with our initials. Somehow, we always remembered who had The Duck Box. I loved it.
The Duck Box is gone now. It made its last trip over 3 years ago. It was my turn to send it to Mom. If I could have wrapped up a cure for cancer, it would have been the best gift ever hidden inside that tissue. Somehow, I knew I'd never see it again, so I carefully clicked pictures. I guess I knew that there would come a time when I'd tell a story about a silly old box full of love. Yep – I just wrapped my own present, Mom. Thanks for the memories. (excerpted from Wendie's blog after she sent me the link. http://kitchenkid.blogspot.com/
A lovely story, Wendie. Thanks for sharing it with us. And the picture of my gift up above has a similar story although not nearly as touching or full of memories. The first year I reused the funky yellow bow, the kids made fun of it. I'm sure I reused it to begin with. I can't imagine actually buying the bow myself. LOL. But since they all thought it was so weird, I kept the bow and used it again the next year and the next. For many years, somebody always got the funky yellow bow. I stopped using it a couple of years ago when the grandkids began to think the one who got it was more favored than the others. But I haven't thrown it away and who knows that funky bow may show up again some Christmas day.
Thanks for all the memories. If you want you can still share a memory with us. I won't do the drawing for the giveaway winners until after Christmas. And I still have some neat memories to share. On Christmas or the day after, I'm going to share a very touching memory of someone who got the greatest gift – a new church family and a real awareness of the love of Christ.
Thanks for reading and may you have the very merriest Christmas!