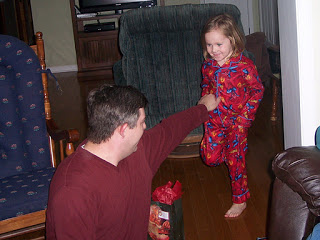 Things turn out best for the people who make the best of the way things turn out. (Art Linkletter)
Those of you of a certain age will notice I sort of borrowed my title from Art Linkletter. He had such fun interviewing kids on his show "Kids Say the Darndest Things." Well, these Christmas memories I'm sharing tonight from a couple of readers prove that kids can do the darndest things too. Of course you mothers and fathers out there already knew that, didn't you?
The picture up above shows one of my own fun Christmas memories. A couple of years ago, this little granddaughter loved Spider-Man. Everything was Spider-Man. She dressed up as Spider-Man at Halloween and played being him all the time. So come Christmas time, I decided I'd buy her something to wear with Spider-Man on it. Of course I had to shop in the boys' department. You're not going to find a cute little ruffled pink top with Spider-Man on it. Trust me on that. I lucked up and found pajamas with Spider-Man all over them. Pajamas for little boys and little girls are made pretty much the same. She opened the present and a few minutes later disappeared from the gift opening scene. Then here she comes running back, wearing the new pjs. I love the look on her face in this picture. You don't often hit the the gift jackpot giving clothes to kids her age, but I think I did with those Spider-Man pjs.
Tisha shares this story with us about a time when the gift maybe didn't go over as well. "The Christmas I remember so well I was about 5 or 6 and my mother bought me a doll. No, not for me she should have known better. I was a tomboy my entire life and never played with dolls. She thought it would be nice for me but I saw things different. My mother said she could not find me right after we had opened our presents and she started looking for me. She found me in the bathroom. I had cut the doll's hair and painted the face with lipstick and made the doll look like an Indian. Course my parents were ready to hang me out to dry. The doll had cost $20 and back then that was a great deal of money to spend on a toy, especially one that lasted a whole 5 minutes before being recreated into something different. This was always the one story my parents loved to tell about me. Did bring some good laugh times though. Oh yes, by the way, that was the last doll Santa left for me. After that was my usual tomboy toys. Softballs, glove and softball bats and such. "
And then we have a story from Sue about one of her granddaughters. This story takes the cake – or maybe that should be "the brick." "I will tell you one of the funniest Christmas stories you have ever heard. In 2003 my granddaughter (then 5) would not even pretend to be good, so we told her that she would not get any gifts for Christmas. She evidently either did not get the message, or simply did not care. So everything we bought for her, we hid. On Christmas morning, the only thing under the tree for her was one great big box. When she opened it,(all nicely packed in peanuts and tissue) she found a brick. She wasn't too happy, but played with that brick all day, even took it to bed with her. The next day, we gave her her presents. she opened them all, but wasn't really interested. She just wanted to get back to her brick. She drug that thing, a regular sized red building brick, around with her everywhere she went for many, many months. The laugh was on us. But the haha is on the other foot now, when everybody in the family tells the story of the girl and her brick every chance we get."
Thanks, Tisha and Sue, for letting me share your stories. You could say both of these kids figured a way to get things to turn out pretty good for them. And thank all of you who have shared a story. Some of them have made me smile. Some of them have brought a tear. Some of them make me remember my own special memories. I'll keep sharing memories until Christmas. And I'll draw for the four giveaway winners the week after Christmas. You still have time to throw your name in the hat. And share your Christmas memory too. I got a memory today about making snow cream – complete with recipe. May have to share that one for sure.
Hope the true Spirit of Christmas is wrapping loving arms around you and the good elves are helping you get everything ready. If they are, send some of their friends my way. I could use the help. Thanks for reading.