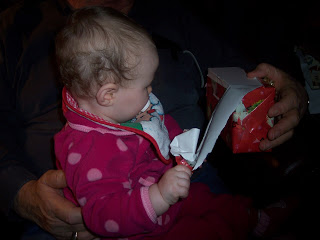 Grandbaby opening a first year present
In the sweetness of friendship let there be laughter, and sharing of pleasures. For in the dew of little things the heart finds its morning and is refreshed. ~Kahlil Girbran
I'm still getting entries in my Christmas giveaway where people are sharing favorite memories. In so many of the shared memories, love echoes through every word. It's the simple things that made the writers feel loved and cherished that often stick in the memory the longest. Not necessarily the big things. Nobody has mentioned getting a truckload of presents. It's usually the visits home. The grandparents and aunts and uncles. The family. But I do have three stories about gifts to share today.
The first shows that it's sometimes the little things that mean the most. Nicole shares her story.
"My favorite Christmas memory was the first Christmas after I married. We went to my husband's mom and dad's house and before opening gifts, his mom handed out stockings. Everyone pulled the items out of theirs, took a quick look and re-stuffed their stockings. Never having gotten a stocking as a child, I, on the other hand, carefully pulled out each out item, taking time to admire the small gifts and just as carefully, replaced the gifts back into the red stocking with my name written in gold glitter. Family members were getting rather frustrated at the time that it was taking for me to look at what was just a "simple stocking" to them; a tradition that they had known every Christmas. What they didn't know, not only how very special the stocking was to me; but finally, I was sharing in a tradition that I had only wished for as a child…a "simple stocking". Every Christmas, I enjoyed listening to my grandparents talk of getting pieces of fruit and candy in their stockings and how much they looked forward to this as much as they did their gifts. This "simple stocking" took me back to simpler times and a family tradition that I knew would be a lasting part of mine. Needless, to say, my family wakes up every Christmas with stockings!! However, I think I enjoy mine the most!!"
And now from Phyllis a gift that didn't want to wait until Christmas morning and a special night shared with a grandmothers. " One favorite story of mine is about the Christmas I was about 11. I had asked my grandmother for a portable radio, new to the times! She bought one for me and had it wrapped under her tree. I spent the night with her and during the night the "' gift" began to play. I woke her and told her I could hear radio music playing in her house. She tried to divert my attention to keep the gift secret. Because the music didn't stop, I could not let it go. We went to the tree and opened the gift that night; after playing with it for a while, she rewrapped the radio to keep until Christmas Day. I love her memory to this day and I will soon be 65."
The last story tonight (more on Sunday) is about a gift to the writer's mother from Evelyn. "When I was a child, Christmas was a big deal in our little school. (Evelyn is 90 plus.) There would be a huge tree and every child would have a present on it. Everybody in the community would go to the Christmas program and then each child would hope to hear his/her name called, receiving a gift as they were taken off the tree. In this particular year, we kids were aghast when we heard our mother's name called. We stood in awe as Mom opened her gift. It was a wedding ring from my dad. I don't remember if Mom cried, but I feel sure she did. I suppose Dad didn't have the money to buy her a ring when they married but here it was, a beautiful wedding band given to her after all these year. This is a memory I cherish and will never forget.


Thanks so much for sharing your memories. I'll share forward some more on Sunday. One you will have a hard time believing, but it will just go to prove that kids can do the darnedest things. And bring us lots of simple pleasures at Christmas time. Thanks for reading and remember it's not too late to share your Christmas memory or to throw your name in the my giveaway hat.
" Happiness consists more in the small conveniences of pleasure that occur every day, than in great pieces of good fortune that happen but seldom to a man in the course of his life." ~Benjamin Franklin