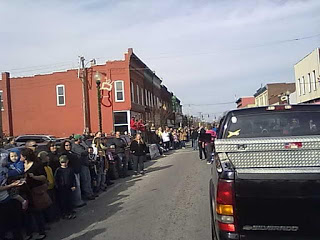 To read the papers and to listen to the news…one would think the country is in terrible trouble. You do not get that impression when you travel the back roads. The small towns do care about their country and wish it well. ~Charles Kuralt
This is a view of my town's Main Street from one of the floats during Saturday's Christmas parade. I wasn't there, so I missed seeing my granddaughter's Girl Scout troop's float win 2nd place. Instead I was in another small town, Perryville, KY. They had a Christmas parade too with sirens blaring and bands drumming and floats scooting along. I was signing my books along with a number of other authors in the midst of a craft bazaar.
That worked for me. Writing is a craft. A little different from the dolls and jewelry one of the ladies made or the soap and herbal ointments at another table. One lady was making Christmas wreaths. Another had fans and feather looking earrings made out of denim. Yet another had hair ribbons and ponytail holders. Two other women had brooms for sale – raised some of their own broom straw – and an 80 plus gentleman was selling honey. The organizers set the authors up in the midst of all the other crafts. I loved it. And I brought some of their wonderful handwork home with me. A boxwood wreath for my door. A jar of honey for my hubby. Hairbows for one of the grandkids. Cute little skirt purses for some more of the grandkids. Soap and some herbal cures. I did shut my eyes and walk fast past the homemade fudge. The divinity called to me, but I didn't listen. I'd already pigged out on a bag of kettle corn. They were selling that too.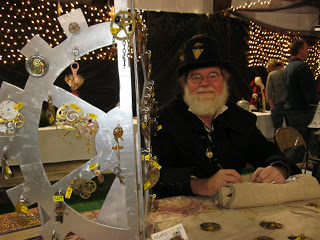 The man next to me was the Gears & Glass guy, David from Danville, KY. He makes jewelry from old watch pieces and keys. Very unique. He was pretty unique himself with an outfit to catch the eye. A retired teacher, he's now having a good time beginning a new enterprise. If you want to get a closer look at his creations, he has a Facebook page. Just search for the Gears & Glass Guy and you can see some close-ups of his jewelry or as he has on his business card "steampunk accouterments."
So I had a good day in Perryville. I enjoyed talking to some people about my books and seeing them carry a few of them home with them. Many of the readers were interested in my book, The Seeker, since part of the historical background is the Civil War Battle of Perryville. They celebrate their history in Perryville and host a re-enactment of that Civil War battle every year. They have community.
That's one of the best things about small towns – that sense of community. While it was spilling over in Perryville, it was also happening in my town and in hundreds of other little towns all across the country. Christmas parades with floats carrying girl and boy scouts. Brownie troops and Cub Scouts walking the parade route. The local high school bands – in our case just one band. The horseback riders with red ribbons tied to their horses' bridles. The homecoming queen shivering in a fancy dress as she sits on the top of the back seat in an open convertible. The town officials in a car borrowed from one of the car dealers. Senior citizens waving from their van or maybe wrapped in quilts in rocking chairs on a float. The football team on a wagon. And Santa bringing up the rear riding on the fire truck with the siren blasting. With neighbors lining the street, waving at their kids and grandkids in the parade. Community on parade.
Do you live in a little town that has a Christmas parade? What do you like best about your community at Christmas time?
Thanks for reading. I'll be sending out a newsletter tonight or tomorrow with a new giveaway. If you're not on my newsletter list and want to be, just let me know. I'll tell you all about my Christmas giveaway on Wednesday and post it on my website before the week is gone. Hope you're counting the days down to Christmas with anticipation instead of like me and thinking I'll never get ready. Truth is I don't ever get ready. Christmas just comes and then it's time to enjoy whatever part I managed to get done.