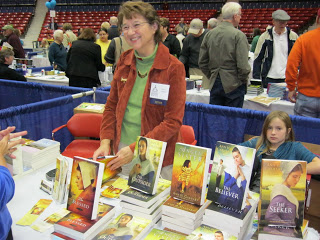 One of the best things about book fairs are the people you meet. Yesterday the Kentucky Book Fair seemed very well attended. So well that at times people were unable to freely walk between the rows of tables. I'd like to say the aisle got so congested in front of my table because of the lines waiting to grab one of my books, but that might be stretching things a bit. But I did have a lot of readers and friends stop by. Got to do a lot of talking. More than my granddaughter behind me wanted to hear from the look on her face in this picture.
Here I'm getting ready to sign a book for someone. It was probably a person I was supposed to know and I couldn't think of her name. I may have been acting cool and asking how to spell her name and she was saying S-u-e. Not really, but I can imagine that happening to me one of these days at a book signing. I sometimes go absolutely blank on names at the worst times. I did that yesterday for one friend. I was saved by the fact she didn't buy my book. Now, was that good or maybe bad? Whichever, I didn't have to be embarrassed by asking her name when I've known her since we were both kids.
I didn't have too many unusual stories yesterday. I did have people coming back to see me from years past. A few that have come every year since I had The Scent of Lilacs there in 2005. (Thanks Beth and Julie and Sherry.) That's always encouraging. I had a lot of people looking at my books and then buying them for their mothers. Or great aunts. I have to bite my tongue to keep from pointing out that younger people can read my books too.
But since I'm talking about older readers, I did have one beautiful 93 year old reading friend come by my table to get my book. She grew up in the same little community as my mother and I think she's still trying to sort out which parts of Angel Sister are based on true happenings. I tell her only the background of the story, but she's not wanting to believe that. She's wanting to skip back through her childhood in the pages of the book. And why not? That's what books can do for us. Take us on an adventure in living.
Probably the cutest story I've ever carried home from a book fair, was the one where the husband brought his wife to the fair as a surprise anniversary destination. He'd even bought her one of my books before they got to the fair since, never having attended a book fair before, he didn't realize the books would be available on site. His wife was so happy she sparkled – she felt that loved.
And isn't that what most all of us want? To be loved enough that someone will make the extra effort to give us a day to remember. To have someone know us that well. That's all we want. That and oh yes, of course a good book.
Book fairs – always days to remember. Do you like book fairs? Do you have a hard time deciding which books to buy? I had several of those stop by my table. Can a fast talking author get you to carry home a book you didn't really plan to buy?
Thanks for reading. Hope you have a wonderful week.