The Kentucky Book Fair is celebrating writers and books again this Saturday, November 12, for the 30th year. There's a great article about the Fair in the Frankfort State Journal today talking about how it got started and naming over some of the famous writers who have signed books there. Kentucky Book Fair: Still Going Strong
A few names most would recognize are former first lady Rosalyn Carter, Hall of Fame baseball legend Mickey Mantle, humorist Erma Bombeck, David Eisenhower, grandson of the late president, track star Carl Lewis, basketball legend "Pistol Pete" Maravich, and Kentucky native, Barbara Kingsolver with her first book Bean Trees. So you never know what new writers destined for fame you might meet at a book fair.
Of course the fair always has a row of Kentucky historians, but one of the perennial favorites for many of the thirty years of the fair was Thomas D. Clark. You couldn't meet a nicer man than Dr. Clark. He was always interested in the people talking to him. He died a few years ago at the age of 101.
I don't know how many years I've been privileged to attend the KY Book Fair. One of their main criteria is that the authors have a new book each year. I don't think I was there for their first event, but I went for several years straight in the 1980s with my young adult books. Sometimes sold out of books by early afternoon. Then I missed several fairs when I had those lean years without a new book until The Scent of Lilacs was published in 2005. Now I've had the fun of going to the Book Fair every year since. Some of the same readers come back to see me year after year and one of these days I may even remember their names. I need to keep cheat sheets because I do remember their faces. And often recognize those names when they graciously tell me who they are – again.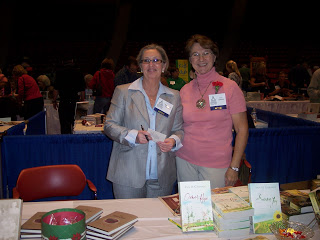 Betty Mae Hodges and me at KY Book Fair 2010
It's also fun getting to know the writers who sit next to me or behind me or across from me. One year, I think with my second Hollyhill book, Orchard of Hope, I sat between a true crime writer and a woman whose book explained how to use Tarot Cards. That was an interesting year! A couple of years ago I was fortunate enough to share a table with Jan Watson, a very popular Christian writer from Lexington. Christian writers seem to have a way of embracing one another as friends from the first hello and that was certainly true with Jan and me. Last year I was seated with Betty Mae Hodges signing a memoir of her grandmother, The Red Can. This year I'm going to get to know a new writer, but I know we'll have stories to share.
But as always the same as at any book signing, fair, book event, the best part is getting to talk to readers. Those of you who follow my on-line journal know that's something I love to do – talk. Whether it's with my fingers here or in person. If you're in the area, I hope you'll come talk to me face to face at the Kentucky Book Fair Saturday. I'd love to meet you if I haven't already, and if I have already, I'd love to talk books with you again.
Thanks for reading. I do very much appreciate each of you.