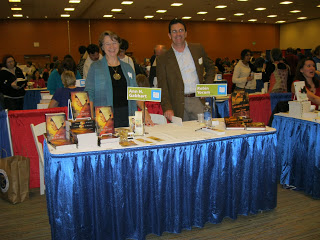 I love book fairs. That's because I love talking books with other writers and readers. The only bad thing about book fairs is that I want to carry a heavy load of books home with me when I go. Of course it's fun seeing readers adding my books to their armloads as they walk around looking at the offerings too. Usually readers have so many choices that they have no trouble finding something that sounds like just the book for them. Sometimes that's my book.
I went to the Books by the Banks last year and it was fun, but the crowd seemed to be lacking. Saturday that wasn't the case. People were still coming in to look at the books an hour before the event was scheduled to end. That's when a reader has to find the best books fast. A lot of kids were being introduced to the wonderful world of stories. This fair has events for young readers all day long. They got stories read to them. They danced. They had their faces painted and had balloon hats. The best part they had fun with books and authors.
The fair had some famous names. Dennis Lehane was there with his mysteries or suspense novels. His books Shutter Island and Mystic River were both made into movies. A long line waited to have Judy Collins sign her memoir, Sweet Judy Blue Eyes: My Life in Music. Another interesting writer I met was Mary Ann Winkowski who was the inspiration for the t.v. show The Ghost Whisperer. She had a cookbook, Beyond Delicious: The Ghost Whisperer's Cookbook: More than 100 Recipes from the Dearly Departed. Now that's a title that almost demands you pick the book up and give it a look.
Of course there were over a hundred authors there, so I could go on and on with the names. Robin Yocum shared a table with me and that's him in the photo above. He was a former crime reporter at a daily newspaper and had written true crime books. He was at Books by the Banks Saturday with his first novel, Favorite Sons. It was a mystery/suspense and sounded like a great story. I always enjoy getting to know the writers around me at book festivals. And as at every fair, I met some aspiring writers who hoped to someday be sitting on the other side of a stack of books at a book fair.
Next up is the Kentucky Book Fair on November 12. That's always a great event as people are beginning to think Christmas and an autographed book makes a fun gift whether you're gifting yourself or a family member or friend. I've signed books and talked to readers at the Book Fair for a lot of years, but it's always fun. Monday I recorded a promo show for the upcoming book fair that aired on the Frankfort, KY cable channel last night. I did a program last year too. That time I got a copy of the show on DVD, but I never had the nerve to watch it. I really didn't want to see how I looked and sounded, but I guess it wasn't too bad or they wouldn't have asked me back this time.
So have you ever gone to a book fair? As a writer or a reader? What do you like about book fairs? Do you like to talk to the writers about their books?
Thanks for reading. And if you're in the Frankfort area on Saturday, November 12, I hope you'll hunt up my table and tell me hello. You'll be able to meet lots of writers there. Almost 200 of them. But won't any of them enjoy talking to you more than me.