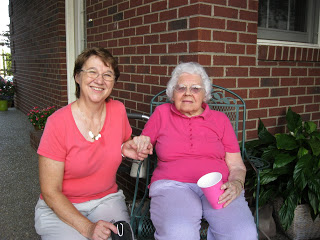 Me and Mom
"In Alzheimer's [disease] the mind dies first: Names, dates, places-the interior scrapbook of an entire life-fade into mists of nonrecognition." – Matt Clark
My mother has dementia. Perhaps not quite the same as Alzheimer's but definitely closely related like fraternal twins. I haven't studied up on any of it, but I have seen the memory thieves in action. My uncle was diagnosed with Alzheimer's while he was still an active, healthy man. He began to escape from whatever was stealing his thoughts by walking. He'd walk for miles. I saw him once while he was walking and he had the expression of a little boy who has gotten away from his parents and is out looking for something. He didn't know what – but something. My mother-in-law had dementia, but she never really suffered from it. She was blissfully unaware of how forgetful she was. In fact, she was a diabetic who lived in great fear of having her feet amputated. She did end up having her leg amputated above the knee but never realized it due to the advancement of her dementia.
I learned a lot while walking down the dementia road with her, but none of that prepared me for my own mother's walk down that same road now. Mom is not blissfully unaware. She knows she can't do what she wants to do, but she also can't remember her age – 91 – and so somewhat accept the forgetfulness and inability to think clearly as a natural part of aging.
A sad part. I know one woman who had been through the dementia trials with her mother. At the end when her mother was dying, she said she just wanted her mother to speak her name. To remember. You know what? I think her mother was speaking her name in her spirit's heart, shouting it as loud as she could, but the rest of her body failed her and didn't allow the sound out to her daughter's ears.
The loss of memory is not a natural part of aging for everyone, but I do think it is more prevalent now because people are living to older ages. I suppose our brains age the same as our joints, but there are those fortunate older people who never lose their ability to think clearly. What a blessing that is for them and for their families!
I partly started thinking about this today because I forgot that it was Wednesday last night and so forgot to do my Wednesday posting. That's another thing children of dementia sufferers worry about. Is it beginning with me? That name slipping my mind or that roll of stamps I hid away somewhere and now can't find. That call I promised to make and totally forgot. That Wednesday I forgot to post here on One Writer's Journal. Uh-oh! Actually I'm not too worried about forgetting that. I think my circuits just get overloaded at times and I have to rest them for a while. Not enough of that rest time lately. But someday I may face the same trials of ill health and dementia, but for now I'll just hold my mother's hand and try not to worry about a future I can't know.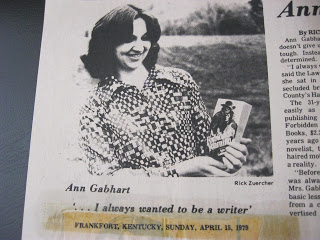 And I'll remember something fun. The picture here is me when I published my first book in 1978. It was a historical romance for the general market about the settling of Kentucky. I got my picture in several newspapers. I was so young and I sound it in my quotes in the articles. A lot of years since then. A lot of stories and more books that I was able to share with readers. But one thing I said then that's still just as true. I always wanted to be a writer. I still do. Sunday – if I don't forget what day it is – I'm going to write about beginning a new book.
I celebrated my birthday all month, but the month is over. So I drew the winners for my birthday giveaway. Drum roll please. Here they are. Marci of Washington was the grand prize winner of the Grandmother's Bible and she picked my book, The Blessed. I wish all of you who told me such great reasons for wanting to win the Grandmother's Bible could have won it, but I only had the one Bible to give away. Jill of Iowa won the assortment of books plus my book, The Outsider (her choice). Debbie of Kentucky won the audio version of The Believer and picked my book Angels at the Crossroads because she already had all my other books. (Debbie, you rock!) Last was the Never Won winner and that's Teresa, also of Kentucky. She gets the surprise which turns out to be a Shaker cookbook from the Pleasant Hill Shaker village near me and a copy of one of my books. (Teresa, you have to let me know which one you want.) Thanks to everyone who entered. The chance to win the Grandmother's Bible made it a popular giveaway. Now I'll have to think up something new to give away to start the fun again and have some new winners.
Thanks for reading and hang onto those memories as long as you can. I know I hope to even while I twist and turn some of them to sneak them into my stories.