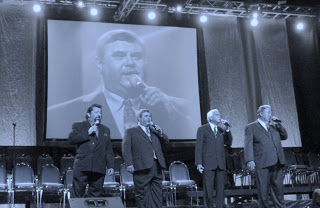 Meet the Southern Gospel group, the Patriot Quartet. My husband, Darrell sings bass with them. That's not him up on the big screen. That's the lead singer, Joe White. Darrell's the one on the far right. The shot I took of him up on the screen was fuzzy, fuzzy. I never claimed to be a professional photographer. If I had been I'd have taken a lot more shots and then maybe had more good ones. The other guys are tenor, Eugene Hoffman and baritone, David Combs.
The guys are at the National Quartet Convention in Louisville this week. They sang in a showcase on Monday, but don't get to sing on the "big stage" as all the singers call it. They do have a booth in the exhibition hall where they meet and greet fans and try to schedule concerts at new churches or singing venues. They love to sing, but they also feel called to share the gospel in song. And they do a great job.
The guys let me set up my books on their product table and so I get to have a little book signing and talk books with people from all over the country. Texas won out on Monday. All those people were trying to get away from the heat and dry weather. Most of them said they'd been seeing smoke from the wild fires. Later in the week, the tour buses start pulling in from all over. I've been having my books at the Patriots' booth ever since The Scent of Lilacs came out in 2005. And so I've made some reading friends over the years. On Monday I got to share my new books with several of them. Readers like Fonda who hunts me up every year. I'm going to use her name in a book one of these days.
Darrell and I have been going to the Quartet Convention for years. I talked to a man from Texas (of course) on Monday who said he'd been to the first Quartet Convention held in Memphis 53 years ago and had been to almost all of them since except for a few years when their children were very small. So I tried to think how many years straight Darrell and I have been going. We started going when they held the Convention in Nashville. We didn't get to go for the whole week, but would go for Thursday, Friday and Saturday. They moved the Convention to Louisville 17 years ago and I know we've been every year they've had it there. So I'm guessing 21 or 22 years, maybe more, maybe less.
One thing I do remember is that I've had a terrible cold on at least half of those years. Probably more. NQC, tissues and cough drops – they go together. But at least I've never wanted to sing at the NQC. Good thing because most years I've barely been able to talk. This year I'm okay. I can talk and shake hands with people without thinking I might be "Typhoid Mary." Thank goodness!
Another thing about the Quartet Convention is that it swallows up my birthday. Every year I spend my birthday at the NQC. No parties. No cakes. No presents. Well, last year I did go shopping and bought my own present – a gorgeous Gospel Singer outfit to wear to the fancy ACFW dinner I attended the week or so after the NQC. I said I was going to wear it one night this year, but if I do, everybody will think I'm one of the singers. And what if they ask me to prove it? I'd be in trouble then. Of course I did teach my little granddaughter the song "The Bear Went Over the Mountain" today, so I could sing that. She was very cute singing the song. Only she said the bear didn't see the other side of the mountain. She sang the bear saw "me." (A grandmother has to sneak in a grandkid story every once in a while.)
I do enjoy the NQC and I'm old enough now that the day I celebrate doesn't matter all that much. Sometimes I celebrate a new year for a couple of weeks. And why not? A new year is worth celebrating. I'm looking forward to the year ahead. I'll have another couple of books out there for readers. I'll be sure to get to talk books with a bunch of new reading friends and some old reading friends too. I'll get to tell some more grandma stories and share some of those special grandkid moments as they celebrate birthdays and other special events in their lives. I'll get to count blessings until I run out of numbers.
Each of you reading this is a blessing to me. Thank you so much for giving me a few moments of your time. And don't forget to enter my birthday giveaway if you haven't already. Details are on my News and Events page on my website, but you can throw your name in the hat by leaving a comment here. As long as you leave a way for me to get in touch with you in case you win. I'll be drawing for winners the last of September. One of the winners will get that beautiful grandmother's Bible and others will get books and more.
I put this quote in my birthday newsletter, but I love it. So seeing as how it's almost my birthday, I'm going to use it again. Don't birthday people get to some extra privileges? And for sure I wouldn't be the age my birth certificate assures me I am.
How old would you be if you didn't know how old you were? (Leroy Satchel Paige)