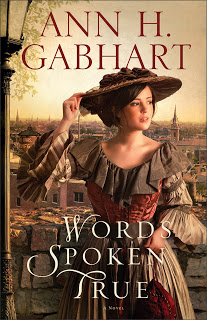 " And that is all there is to good writing, putting down on the paper words which dance and weep and make love and fight and kiss and perform miracles." (Gertrude Stein)
Words – the tools of a writer's trade. Words tell your story. Words make your characters leap off the page and come to life. Words plunge those characters into disasters or lift them up into joy. George Bernard Shaw has a true view of words in a story. " Words are only the postage stamps delivering the object for you to unwrap." The object I'm trying to deliver for readers to unwrap is a story.
I've been editing the galleys of my book, Words Spoken True, that is scheduled for release in February 2012. So tonight, since I have been engulfed in words for several days now, I'm very conscious of how much difference a right word can make or the trouble a wrong word can cause in a story. Words Spoken True deals with words in another sense too since the characters in it are newspaper people whose lives revolve around the words they put out on the street for the people to read. The power of the printed word.
I never wanted to be a journalist. I always wanted to make up my stories, not report true stories. But I seem to enjoy making up stories that have newspaper editors as characters. David in my Hollyhill books is not only a preacher, but the editor of the small town's newspaper. I wrote a couple of mysteries that have yet to be published where one of the main secondary characters is the editor of the town's paper. Newspapers have played a big roll in the history of our nation and they certainly play a major role in the history of this new book of mine.
So words have been my focus this week. I've read through this story at least a dozen times, probably more, and each time I find things to rewrite. I find words that clutter and must be removed. I find words that might be okay, but aren't the best to tell my story. The first words are not always the right words.
Plain or fancy, the words need to fit the story. The words inside the quotation marks need to be words that would come from the mouths of my characters. And so I examine every scene, every conversation to make it the best I can. I edit by ear. The words sound out in my head as I read and sometimes while I'm reading along, suddenly I bounce into a chug hole of awkward writing. That's what I'm trying to take out. I'm trying to make the reading road as smooth as possible for my readers so that those readers will not get bounced out of the story. That means paying attention to details. Things like not using the same word over and over. My pet words in this one were "a bit." Everything was a bit this or that. Of course I was also too fond of "still" and "just." Still, it's just so easy to use them a bit too often. :o)
There are plenty of details to watch. Details like being sure the POV is clear in each scene. Details like paying attention to the time line and the names of minor characters. Details like not having your characters need to be contortionists to make the movements you have them making. Details like chopping out those adverbs and letting your dialogue do the work instead.
So I've been smoothing out the road my words have made in hopes that the reader will pick up my book and not be jerked out of the story by sloppy writing. Details. That's what editing is about. Making the story right. Making the story sing. I'm hoping I got the details right, but I'll have one more go at it to correct minor problems when I get to review the pages before the book goes to print. And again I'll be reading and editing by ear.
How do you like the cover? I like how the town of Louisville is behind my beautiful heroine. Adriane is beautiful in the book, but of course she cares more about writing stories for the newspaper than she does about being beautiful.
What do you think about books you've read? Can you tell when the authors are careful with details? Or do you even care as long as the story pulls you in?
Thanks for reading. And don't forget about my birthday giveaway. You can check it out on my website and send me an e-mail to enter or leave a comment here. I'll be doing the drawing for four winners the end of September. Remember if you've never won anything from my website to tell me that to get your name in the bonus drawing.