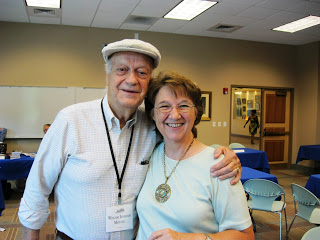 Lynwood Montell & Ann at a Gathering of Authors
"There is nothing better than the encouragement of a good friend." (Katharine Butler Hathaway)
It's not been my easiest summer with Mom needing so much extra care and with that deadline I had to chase with the Shaker book I was writing that didn't seem to want to end. I did find those elusive words "the end," and The Gifted turned out to be the story I was wanting to tell. Things are still not easy as we try to arrange schedules so someone can be with Mom all the time, but we're getting it done.
But with so many things going one, it can be easy to get discouraged. I am too blessed to ever have reason to be discouraged, but that doesn't mean I don't get a little down in the dumps on occasion. Sometimes it seems I should be doing better or getting more done or something. I think I ought to be superwoman every day instead of just now and again. And the truth is, I lost my superwoman cape some years back.
Ah, but then there will be a day when good news comes knocking on your e-mail door. Nothing major. No fantastic new contracts or best-seller lists. But little things. A favorable comment from an editor. A bit of praise. A writer friend spotting a stack of my books in an airport book store in California. Lunch with a couple of writing buddies. Friends reading my newsletter. Other friends leaving comments here on my blog to let me know they're reading my books. A few hugs from my writing friends at a Gathering of Authors on Saturday.
William Lynwood Montell even took his picture with me. Lynwood is at every book event in Kentucky and he's always smiling and he always has a new book. He's a storyteller. The last few years he's been collecting stories about various professions and compiling them into wonderful books. He tells stories about doctors, lawyers, one-room school teachers, and even funeral homes, not to mention ghosts, and that's only some of the subjects he's shared in his books. But the very best thing about Lynwood is how he encourages other writers. Of course he called me "Lucille" all day, but he was smiling the whole time. I think I may try that the next time I can't remember somebody's name. You see I thought he was joking, but then who knows? Maybe not.
Next week I may not get those encouraging words. Maybe it will be my time to share encouraging words instead of receive them. To pass along the good feel of encouragement. I may have that opportunity Monday morning when I do a short interview on WBCL Radio at 10:39 with Lynne Ford. She's going to ask me about Angel Sister. One thing sure about that story and all my stories is that I want the storylines to be an encouragement to those who read them. I want people to see my characters overcoming problems with faith and love the way my Merritt family did in Angel Sister.
I hope you will be encouraged in whatever you are doing this week and that someone will give you the gift of a word of encouragement. Thanks for reading!