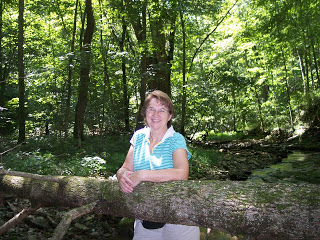 Did you know August was "Admit You're Happy" month? And that's not all. It's also "National Catfish Month," "National Picnic Month," and here's one for those of us who try to put a little romance into our stories "Romance Awareness Month." That's just the things we're celebrating all month. Then we have the weeks. Week 2 was National Smile Week and Week 3 Friendship Week. With all those smiles and romantic awareness, friendship week was no problem at all.
But keep going and you can find something to celebrate every day. I liked the one on August 8. "Sneak some zucchini onto your neighbor's porch day." I have been in that spot. Way too much zucchini and no way to use it all up. I used some of that feeling in my first Hollyhill book, The Scent of Lilac when Jocie complains about all the cabbage and zucchini the church people share with her preacher dad.
Then after you got rid of that zucchini, the next day on the 9th, you could sit down and pick up a book to enjoy Booklover's Day. Creamsickle Day was on the 14th and Relaxation Day on the 15th. The two I was really sorry I missed were the 16th – Tell a Joke Day and the 18th – Bad Poetry Day. I could have had a blast telling jokes. I know at least two – punchlines and everything. LOL. And there's nobody any better at bad poetry. I proved that in the opening scene of Angel Sister when I let Victor spout some poetry after he'd been out drinking. I'm going to mark my calendar next year and my friends better watch out in 2012.
Tomorrow – Monday – is Be an Angel Day. I'll have to celebrate that with the way Lorena begged Kate to be "her angel" in Angel Sister. That day was first celebrated in 1993 by people doing acts of kindness and helping one another.
Some of these days have been recognized nationally and others are just somebody's brainchild and attempt to entertain the cyberworld. So what day would you come up with if you could name something you wanted to celebrate one day in August? I'm picking "Go to the Creek Day." That's where I was in the picture up top.
Thanks for reading and don't forget to be an angel on Monday. And if you missed out on some of those other days, just catch up next week. Smile while you're eating that creamsickle and relaxing, but try not to drip the ice cream on that book you're loving. Maybe it'll be a book of funny poetry. Bad funny poetry that you can turn into a joke. And if all that's too much bother, just go to the creek and try to catch that catfish. Well, you might not catch a catfish in a creek, but you might catch some fun. Enjoy every day!!