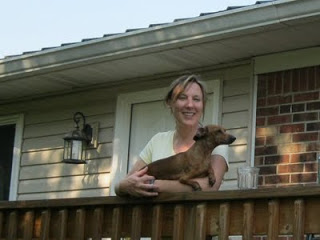 My daughter and her dog, Sumo
"Time is free, but it's priceless. You can't own it, but you can use it. You can't keep it, but you can spend it. Once you've lost it, you can never get it back." (Harvey MacKay)
Time – sometimes it seems there's never enough time to get everything we need to do done. That's certainly been true for me this summer as I struggled to get a new Shaker story out of my head and typed into my computer. Part of the reason for my struggle was that for about a year now my mom has needed someone with her around the clock due to heart problems and worsening dementia. It hasn't always been easy, but I did find out a few things about myself and writing.
First I discovered I'm not as fast a writer as I'd like to be. Second, I need a lot of alone time with just me and my computer to get a story out of my head. Third, I am an expert delayer if the words are not coming easy. And last but certainly not least, I can't do it all anymore. Maybe I never could, but for sure, I can't now.
Then again, maybe the best thing I learned is that I am loved. Of course I already knew that, but sometimes actions prove it all over again. My daughter gave me a week of her time. She used some of her vacation time and came home to sit with Mom in my place to allow me that alone time to finish my stubborn work in progress. That was not only very touching, but also very motivating.
I could hardly twiddle my fingers and find delaying trails to follow when she was here expressly to give me time to write. I had to write. And I did. I got to the end of the story. Not exactly finished completely, but the story is out of my head and down there on the screen paper where I can cut and polish. That doesn't take as much alone time. That I can do in the midst of distractions.
Time. These last few months the refrain in my head has been "How much time do I have?" That was how many hours before I needed to go to Mom's or cook dinner or turn in for the night. Or how many months, weeks, days before my deadline for the story. Not happy questions.
Time is such a gift. Both the time the Lord gives us each day and the time we share with one another. Thank you for spending a few moments of your time with me.