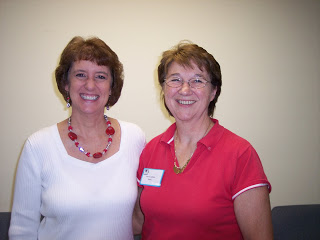 I've been working all week on getting ready for the Kentucky Christian Writers Conference in Elizabethtown coming up this Friday and Saturday, June 24 & 25. I had actually thought this was my first writers conference when I went last year, but then I was reminded that I had led some workshops at the Green Rivers Writers Retreat some years back – probably in the 1980s or 90s. That was in Louisville and I drove back and forth so maybe that's why I didn't think about it actually being a conference. But I did meet with writers and try to share my limited writing knowledge with them. That's what I'm going to be trying to do again at KCWC.
The picture is of me and last year's keynote speaker, Virginia Smith. Ginny did a great job of delivering the keynote speeches last year. Ginny does a great job every time she speaks. Just check out her website, Viginia Smith and you'll see that she has some interesting topics for her talks. And she's always fun. She was last year too. This year they have Cecil Murphey who has written so many books it's a wonder he hasn't lost count. Maybe he has! He has his name on some of the books and some of them he ghostwrote such as 90 Minutes in Heaven by Don Piper. They say he's a tremendous speaker and encourager so I know the conference attendees will more than get their money's worth.
I always feel a little inadequate – oh heck, I feel a lot inadequate when I am asked to lead a workshop. I'm a writer, not a teacher. But at the same time, I enjoy teaching. I did a community ed writing class for several years here in my county and found it fun. Time consuming, creative energy draining, but fun. So I do have some experience teaching and almost all the comments on my sessions last year were favorable. Wonder why that one really critical remark is the one that stuck? (Sigh)
Last year I had workshops on character and rewriting. I was a little surprised to discover that a lot of writers thought the rewriting topic was not all that interesting. I like to rewrite. For one thing that means I've finished the hard part of writing and have the story told. But I'm not trying to encourage the wisdom of rewriting your work this year. My workshops are "Dialogue – The Fizz in Fiction" and "Facts in Fiction – Using History in your Story."
I think I came up with good titles anyway. Now to put the meat into the session and deliver it in such a way that my advice will encourage other writers. Even if they leave my class saying that was a lot of nonsense and I can do better than that. A lot of good books have been written by writers who said that very thing. Motivation is necessary for characters in stories and for writers.
But in the three conferences I have been part of I have found one thing true of them all. It's the people you meet, the friends you make that give you the most lasting benefits. The writing information is good. Feedback is good. Discovering new markets or new possibilities of ways to use your writing talent is good. But best is making friends who know how hard writing can be, who may have experienced the same discouragement over rejections or joy over acceptances. People who understand because they have the writing bug crawling around inside them too.
So if you're at the conference in E-town, be sure to introduce yourself and tell me you are a reading friend. Then we can be face to face writing friends too.
A couple more items here. My first book launch for The Blessed will be next week on Thursday night, June 30th at the Corinth Book Store in Frankfort, KY at 7 p.m. If you live in the area I'd love to see you there. Then I'll have a Hometown Book Launch at the Anderson Public Library in July on Sunday the 24th at 2 p.m. Door prizes and chocolate there. Both places I'll be talking about writing my new Shaker book, The Blessed. On June 30th at the book store I'll be sharing the podium with Catherine Sheets, a Frankfort author with a new book out titled A Place Called Morning.
And now for the big news. I have the winners of my Celebration giveaway. The winner of the "never win anything" (at least from my website) is Abi of ND. She picked Orchard of Hope.The winner of the "I've been blessed" drawing is Ann Marie. The winner of the angel figurine and a book is Donna of KY. The winners of autographed copies of The Blessed are Susan of NE, Sally of TX, Katie of CA, Linda of MI, and Virginia of VA. Thanks to everyone who entered the drawing. I'll be doing some more giveaways in September (you know, because when you get older you have to celebrate by giving stuff away), so check my events page on my website for when and how to enter. I'll also be guesting on some blogs that will be giving away a copy of The Blessed. That info is also on my website event page.
Blessings to all of you. And wish me smooth talking and intelligent words for my workshops this weekend. If you were attending one of the workshops, what would you most want to know?
Snf no