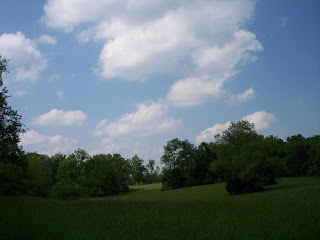 I have absolutely no reason for this picture other than I wanted to use a picture and we've had blue skies this week. This is a hayfield on our farm and a place I sometimes walk. I'd like to walk around it now because there's a nice patch of raspberries in the fencerow, but my husband hasn't mowed the hay yet and the grass would be up to my waist. So guess the deer will enjoy the berries. They are another reason I'm not wading through the grass. They're probably eating all the berries off the vine and I'd make the trek only to find nothing to pick. The other reason is we've got some raspberries in the garden. I love black raspberries. They hold the sweetness of early summer for me even more than strawberries.
In my work in progress it's June and I have my girl picking blackberries. Maybe I'd better go back and change that to raspberries. I'm two weeks or more early for the blackberries.
It's been a slow week down here on the farm. Hay mowing time for Darrell which means equipment breaking time. The baler is in the baler repair shop now. Meanwhile I'm having my periodic computer troubles. I'm about ready to go back to those wirebound notebooks I used when I started writing years ago. I actually met a writer the other day who still writes everything in long hand first. Not me. The keyboard is my pen of choice. Gotta get those words down. But there are times when the keyboad along with all it's connected to does its best to drive me bonkers.
I'm pushing hard to finish Shaker 5 that has an accepted title now, The Gifted. I'm in one of those awkward places for a writer. I need to get the story finished. I'm rushing to get it finished. And I've got enough words written for it to be finished, but I'm some way from being finished. That means I'm going to have too many words. That means I'm going to have to cut lots of words. Nice words that I worked hard to dig out of my head. Sigh.
But it's a good writer time for me too with a new book out. The Blessed is available on Amazon now. I got my copies last Thursday. So I planned my Hometown Book Launch for Sunday, July 24 at 2 p.m. at the Anderson County Public Library. If you're in the area, I hope you'll come join in the fun. I always give stuff away and we have fun talking books. I might even make brownies again. Maybe.
I've actually got a lot of things going on in the next few weeks. Blog tours and posts and interviews. First up is an interview on Carole Brown's blog, Sunnybank Meanderings on June 15. Then on June 24 & 25 I'll be doing a couple of workshops at the Kentucky Christian Writers Conference in Elizabethtown. www.kychristianwriters.com Maybe I'll give you guys a preview of my classes next week. So you can see why I need to get this new Shaker book finished. I think I know where my characters are going. I think I know what they're going to do. I think I can, said the little writer who thought she could get over the hill to the end.
By the way, if you leave a comment on my interview with Carole, you'lll have a chance to win an autographed copy of either Angel Sister or The Blessed. And now that I've got my author copies, I'll be drawing the winners for my celebration giveaway next Saturday. So if you haven't entered, check out the details on my website and join in the fun.
As always thanks for reading. And hope you liked the picture.