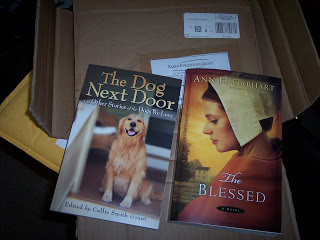 Books are arriving in the mail and by UPS. That's always fun. And it's just as much fun when I hear from family and friends that they received my new book in the mail. Several people got gift copies of
The Blessed
yesterday in the mail. Other family members may get a surprise in the mail next week. It's fun to get nice surprises in the mail. Just a week or so ago I got the dog story book,
The Dog Next Door
complied by Callie Smith Grant that includes a story I wrote about one of my dogs. My nine-year-old granddaughter picked that book up last night while she was at my house and went straight out on the deck to lie on the swing and start reading. She loves horses and dogs.
So far I haven't received my box of author copies but I'm glad one of my fantastic editors at Baker sent out a copy of The Blessed to me as soon as the book was available. Actually holding a new book in my hands and enjoying that new book smell is part of my reward for months of work digging words out of my head. I have to confess it's pretty nice on the eyes to see that "by Ann H. Gabhart" on a book that lands on my doorstep.
A few years ago, I actually spotted one of my new books on a shelf in a store before I had a copy. And no, I didn't buy it. But I did pick it up and flip through the pages. Then I went home and called the publishers to hurry up the copies to me.
Now with the book out there in some readers' hands, I'll have sit back and wait to see what people think. Will they like Lacey's story? Lacey was a good character I enjoyed getting to know. She has her own special voice that I hope readers will enjoy too. I'll also be planning some book launches. It's been such a hard spring and I've been trying to finish Shaker book 5, but that doesn't mean I can't celebrate a new book with my reading friends. Remember, I am giving away books, several of them, as soon as I do receive my author's copies, so if you haven't sent me an e-mail saying you want to throw your name in the hat for the giveaway, you still have time. You can check out the giveaway details on my Events and News page on my website,
www.annhgabhart.com
. Plus you can take a sneak peek at
The Blessed
.
Since we're talking about giveaways, it's time to announce the winner of Suzanne Woods Fisher's book, The Waiting. Drum roll please. ONorman is the winner. I numbered the comments and put all the numbers in a hat – well, actually a bowl – and drew out her number. I started to ask my mom to pick a number between one and whatever the end number was, but I decided that wasn't fair to the number one person. How many times have you ever picked the first or the last number when told to pick a number in a range of numbers? Nobody ever picks one. Or is that only true for me? Anyway, I drew out a number so this was random and fair.
Thanks for reading. And I hope you get good surprises everyday. A new book. An e-mail or letter from an old friend. Finding a ten dollar bill in your pocket that you'd forgotten about. Catching the biggest fish. A grandkid's sweet kiss. What is a good surprise for you?