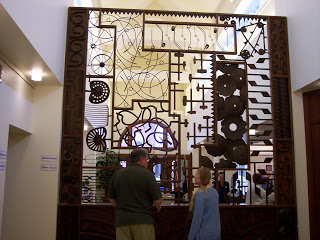 Art Piece at the Mercer Co. Library
Last week I was privileged to be invited to join the Lunch Bunch Book Club at the Mercer County Library after they read my book, Angel Sister. Getting together with book clubs either in person or via phone is one of the most fun things I do as a writer. I like to talk about books. I like it when people read MY books and talk about them.
And it's absolutely the neatest thing to be able to be in on the conversation. To sit there and listen while readers tell you what this or that character was thinking and explain why they did the things they did. Me, I just write down their stories, so it's interesting to find out more about their motivations. Then they sometimes talk about what my characters might be doing now in the imaginary beyond after I wrote "the end." People who read books are the best. And here are some of them.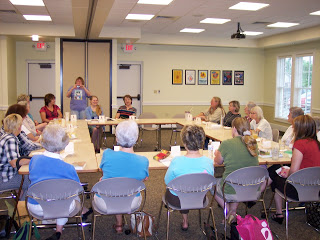 Thanks so much to Kate Sumner for arranging for me to come meet with the group. And I also appreciate my friends in the book club who might have recommended Angel Sister as a book club selection. With so many books to choose from, I always consider it a special honor when a club picks one of my books. Then it's a double honor when they want me to show up to talk to them about the book.
So I really like book clubs. I also really like libraries and Mercer County has just added on to their library and they have a beautiful, very user friendly facility right in downtown Harrodsburg. And when you go in the front door, the first thing you see is this fabulous piece of art. It was a minute after I went in before I realized the piece was completely assembled from old farm equipment and tools. In the picture above Darrell is telling Kate what all the tools are or what the pieces were from and how the equipment or tools were used. He knew because he had used a lot of them. I knew what a lot of them were for the same reason. Well, I never swung a lot of sledge hammers, but I watched my dad use them. And the tobacco knives and scythes and mowing blades and rake teeth, just to mention a few of the things in the sculpture. It's an amazing piece of art so if you're in Mercer County you should go by the library just to see that and then go on in and talk to the friendly staff. You might even check out one of those books that Gabhart woman wrote. You'll have to look in the Kentucky section for those.But even if you don't get a book, the art piece is worth the trip. It's beautiful and it shouts the history of our agricultural region. I took several pictures so may post more on my facebook page in the days ahead.
Thanks for reading, and welcome those of you following my journal. I do appreciate each and every one of you. If you want to comment on Suzanne Woods Fisher's guest interview in order to be in on the drawing for her book, The Waiting that is a finalist for a Christy award, you've got until Sunday noon to do so if you haven't already. June 1 today. A granddaughter's birthday. One month to finish my Shaker 5 book. I like June. Hope you do too.