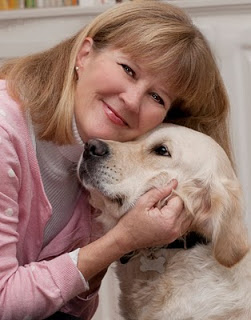 Suzanne Woods Fisher with one of her beautiful labs
Today I have a special guest on One Writer's Journal. This is the first time I've had a writer guest, but maybe not the last time if I can make connections with some other writers about what they do besides write.
Suzanne Woods Fisher is a bestselling novelist with a wonderful following of faithful readers who love her books. She hosts a weekly radio program called Amish Wisdom where she interviews writers and other guests about Amish living and the simple life. She has a busy family life and on top of all that, she raises puppies for Guide Dogs for the Blind. So as one dog loving writer to another, we're talking dogs and writing. And as a bonus, Suzanne has graciously offered to give away a copy of her 2011 Christy Award finalist book, The Waiting to one of you readers. Just leave a comment with a way to contact you. So now let's talk to Suzanne.
Suzanne, you have a very busy life with your writing, radio show, signing tours and everything that goes along with publishing books. Tell us how you handle it all and still enjoy time with your family.
I am always writing. Nearly always! Promotion is a big side of this book gig—answering e-mails, participating in interviews, public speaking, keeping up with social media. Everything gets done…but it's a pretty busy life right now. I don't have much time for just having coffee with friends. As for the puppies…they are a joy! Taking a dog on a daily walk helps me get away from the computer, slow down, enjoy nature, exercise, relax a little. You just can't take life too seriously with a puppy tearing through your house with someone's underwear in its mouth.
Your grandfather was raised Plain. Was his background instrumental in you deciding to write about the Amish? Your Amish books come across as very authentic as well as respectful to the Amish way of life. Did your grandfather tell you about Plain living or did you experience that firsthand through visits to the Amish villages?
I've always been intrigued by my Plain relatives, even as a child. They have a very gentle spirit, very warm and welcoming, and I admire their focus on a simple life. My grandfather was one of eleven children, raised Old Order German Baptist Brethren, near Gettysburg, PA. He left the colony as an adult, but kept in close contact with his many siblings (and many, many cousins, second cousins, third cousins, etc.). The German Baptists (also known as Dunkards) share core beliefs with the Amish and Mennonites. All Anabaptists. Same song, different verse.
And I have a similar respect for the Amish families whom I've met—they're such kind, wonderful people. A number of my characters in my novels are inspired by real Amish people. Caleb Zook, for example, (in The Waiting and The Search) is modeled after a bishop I admire. I admit, though, that I took a little license with the character: Caleb is a dashingly handsome Amish farmer. The real bishop is a dead ringer for Benjamin Franklin.

I'm a dog lover and I know there are many dog lovers out there in the reading world. You have gone a step farther than simply loving dogs as pets to raising dogs for service. How did you get started raising Guide Dog puppies?
We had lived in Hong Kong for four years with my husband's work (he's a corporate guy). We have four kids, and the six of us lived in an 1100 square foot apt. in a 44 story highrise. My youngest son, Tad, wanted a dog and it just wasn't the time in life for us. When we returned to California, the time seemed right. Another dilemma! My husband doesn't like dogs. He told Tad that he had to convince him of a function, a solid reason, a noble purpose, to get a dog. That very week, Tad and I went on his 3rd grade field trip to Guide Dogs for the Blind and learned about the need for puppy raisers. Voila! We found the reason! Nine puppies later…we are still raising them. And my husband has grown to like (not love) our dogs.

Tell us about raising these pups. What is the same as raising any pup and what is different?
Some aspects of raising a Guide Dog puppy would be similar to having a pet: House training (my first objective!) and basic obedience. Puppies are assigned to a puppy raiser's home at eight weeks of age and recalled back to the Guide Dogs for the Blind facility around sixteen to eighteen months for formal training. The job of a puppy raiser is to socialize the puppies by taking the pup on age-appropriate outings—grocery stores, restaurants, church, movies and concerts, doctors and dentists, bus and train rides, on and on. We also attend weekly puppy raising meetings to work on skills. The goal of preparing a puppy to become a working guide is always in front of us.
Pups can be cute little bundles of fun or at times, bundles of trouble. My daughter has a German Shepherd pup right now who sometimes drives her crazy and she's a dog lover like me. He just chewed up a library book. I guess he wants to read that badly. Can you share some misadventures you've had with your pups?
I think my most mortifying puppy-raising moments are when a puppy relieves in public. It doesn't happen often, and it shouldn't happen at all…but it does. It is very hard to look cool when you are cleaning up your puppy's mess. Another mortifying moment was when I was in a Nordstrom ladies room , washing my hands, as my Guide Dog puppy poked her head under the stall and scared a lady.
It has to be rewarding to know the pups you raise are going to be some person's way to a more independent life. Do you ever know any details or stories about how your pups make a difference in someone's life? Heard an inspiring story about your pups after they leave your care?
The worst and best puppy raising moment came in a twenty-four hour period after the graduation ceremony for my first dog. Arbor was partnered with Jon, a college boy with progressive blindness. When we said goodbye, we knew we wouldn't see Arbor again (Jon lives in the Midwest). We were thrilled that Arbor became a guide, but it really smarted to say goodbye to that big yellow lab. The next day, Jon's mom e-mailed me to let me know they made it home and she added this comment: "Last night, Jon and Arbor walked over to a friend's house. I can't remember the last time Jon did that." In just 24 hours, Arbor was changing Jon's life! For our family, loss turned into gain.

I know there must be things I don't know to ask about what you do with these dogs. So please share anything that is especially difficult or rewarding for you or that you think we might just like to know if I only knew the right questions to ask.
If you are a dog lover, look into volunteering with service dog organizations like Guide Dogs for the Blind in San Rafael, California. Half the reason I keep raising puppies is because I have met so many wonderful, big-hearted people, too. And there are all kinds of levels of involvement—it doesn't have to be as big a commitment as puppy raising. Some people in my local puppy club are just puppy sitters—they provide a huge help to raisers.
We're so happy you shared with us about your dogs. But we are writers, and writers write and then they talk about their books. So tell us a little about your books and which ones are new out there on the market for readers. Also what is on the publishing horizon for you?
I have new releases coming out later this year: Amish Values for Families releases in August—it's a spin-off from Amish Peace. And then some fiction books follow behind: A Lancaster County Christmas comes out in October…and dog lovers will be happy to know that this is a story that includes a very wonderful Search and Rescue dog!
Starting January 1st, The Keeper is released—the first in the Stoney Ridge Seasons series. And then another series will follow that—still in the little town of Stoney Ridge, Pennsylvania. Different characters, same town. All good!
Any last words before we say goodbye? And be sure to tell everyone how they can find out more about your books.
Thanks so much for having me, Ann, and sharing your many readers with me. I love to connect! You can find me online at
www.suzannewoodsfisher.com
and on Facebook, too.
Thank you, Suzanne. Remember, everybody, if you leave a comment you'll have a chance to win Suzanne's book
The Waiting.
Think how much fun it will be to win a Christy Award nominated book. Also, be sure to tune into "Amish Wisdom," an internet radio program hosted by Suzanne every Thursday. Here's the link.
http://toginet.com/shows/amishwisdom
. You might even hear me on there sometime in June talking about my new Shaker book.
Let me know what you think. Want me to find more writer friends to tell us what they do along with writing great books?