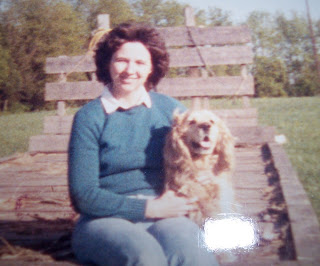 It's not a great picture, but here I am with my cockerspaniel, Jody. He was a registered dog and to fancy up his name a little I called him Honeysuckle Jody. The picture is old and I've definitely got a windblown look, but Jody's curly ears are lying down nicely. This was taken twenty-five or so years ago. I was needing some – or at least I hoped I might need some – publicity type photos after my first books were published. Can't say that I ever did.
That was way before Facebook and the internet gave anybody a chance to share pictures with anybody. But I'm glad I took this one and a couple more with Jody. He was a good dog. And he was the dog that I wrote about in the story that is part of the book, The Dog Next Door edited by Callie Smith Grant. Check it out on Amazon.
I like dog stories, so I'm sure I'm going to enjoy reading the other writers' stories in the book. My story is titled "A Gift of Love," and it's about when my husband gave me Jody for my birthday. He sometimes has a hard time getting me gifts that I really like. I mean the man gave me a bright pink snuggie a couple of years ago. You'd think after all our years together he'd know I am not a bright pink snuggie person.  Then there was that floor polisher one year for Christmas. I have to admit that sometimes I'm not the best gift receiver, but at the time I got the floor polisher I was still young, only married a couple of years, and halfway still believed in Santa Claus. 🙂 Besides that, I lived in an old farm house with linoleum that had black spots from wear. So it's hard to be enthusiastic about a floor polisher that obviously was not cheap. Like money would have bought me a really pretty sweater, I'm sure. So for years after the floor polisher disaster, he tried to get me something I would REALLY love for my birthday or Christmas. And he did with this dog, Jody. The best gift ever. If you get the book and read my story you'll know – as they say – the rest of the story.
Jody was my dog from the beginning. He loved all the family, but he was my dog. He was about as big as my hand when we got him and while I cooked or worked at the kitchen counter, he would sleep on my foot. The only trick he ever learned was jumping up to catch popcorn in his mouth. He loved popcorn. And he terror on terrapins. When we took walks, he would sniff out terrapins – that's the only animal he could catch – and carry them all the way back to the house. It must have taken them days to get back to their homes. Then whenever I went to town or anywhere, he was always at the door to enthusiastically greet me when I got back. Of course, he hated the UPS man. What is it about UPS trucks that dogs don't like? Jody would get cockle burrs caught in the long hair on his ears but was patient as I worked them out. And like all dogs, he got old much too soon. Jody's been gone a long time. I've fallen in love with a half dozen dogs since him, but Jody was special. A bundle of pure love who looked at me as if I was the most wonderful person in the world. He still sometimes runs through my mind when I go for a walk, especially when I come across a terrapin.
Thanks for reading. Sundays this month have been devoted to dogs. Next Sunday come read a very special interview with Suzanne Woods Fisher as she tells us about raising guide dogs and also about her Amish books. I know you'll enjoy learning more about her, her books, and her dogs. Plus if you leave a comment, you'll have the chance to win one of her books. You're welcome to share my blog posts with any friends you think might enjoy my letters from down here on the farm.
"Dogs are not our whole life, but they make our lives whole." Roger Caras