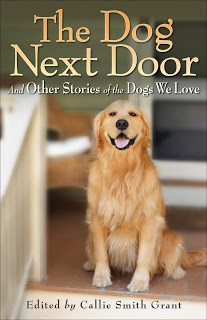 Here's the cover I promised to post Sunday about the book of dog stories,
The Dog Next Door
. I know. It's Monday and not Sunday. But I was at my daughter's house last night and didn't have time to get on the computer. And I was too busy enjoying all the writers and books at the S.C. Book Festival this weekend to get it on earlier. If you live in the area or anywhere within reasonable driving distance – and you love books – you should consider a trip to Columbia, SC when they have their book festival next year. They always draw in some big names along with lots of other regional and national writers who maybe aren't on the NY Times Bestseller list, but who write great books. There is so much variety. Fiction of lots of genres, history, bestsellers, gardening & cooking books, kids books and etc. I'll share some more about the fun I had in Wednesday's blog. But now back to the dogs.
I hadn't written a short piece in years. Maybe one for a local magazine fifteen years or more ago. I love the book form. I like writing novels. But when I got the e-mail asking if I had a dog story I wanted to tell, I thought why not see if I could still think short. I started out writing short pieces for church magazines and dreaming of publishing stories in Redbook or Good Housekeeping. At that time those magazines published several short stories every month. What happened to all the people who used to like reading short stories? I don't know, but whatever it was, the market for short stories dried up before any of those editors saw the gold in my stories. Probably because I didn't have any gold in those stories. To make a long story short – which I am not very good at – the market dried up for short stories and I quit writing short pieces at about the same time. I don't think those two things had any sort of connection. LOL
But I love dogs and I knew Callie Smith Grant, who was compiling this book. Plus I had a story about a dog that I thought might work. Actually, as many dogs as I've had, I should have enough stories about dogs to fill a book all by myself, but I decided to pick this one story about my cockerspaniel, Jody. I'm not going to tell you the story here, but it is a heart tugger. Jody was a wonderful dog, but this is more about him being a gift to me than about the dog he turned out to be. Maybe next Sunday, I'll just tell you about the kind of dog he was and post a picture of him. That sounds like fun. I must be on a dog kick. That's going to hold true until the end of the month. On Sunday May 29, I'm going to be posting Suzanne Woods Fisher's interview about her and her dogs. Tell your friends about that one.
Here's the blurb for The Dog Next Door. If you like dogs, I hope you'll check it out when it releases in June.
Dogs are truly one of God's finest creatures, a marvelous gift for us humans. In the perfect follow-up to
A Prince among Dogs
, Callie Smith Grant compiles a delightful collection of true stories that celebrate the dogs in our lives. These stories will touch our hearts, renew our spirits, and show us how God made these wonderful creatures for unique purposes.

Readers will love these uplifting glimpses into the lives of ordinary and extraordinary dogs and the people who love them. The stories are warm, captivating, and ideal for a good curl-up-and-read or a perfect gift for any dog lover.
You can click on the Table of Contents on the book on its Amazon page and see the other writers who have written a story or stories about their dogs. One of my writing friends, Virginia Smith, has the lead off story. I haven't gotten a copy yet so haven't been able to read any of the stories, but I'm sure they will be fun/inspiring/touching/all of the above.
Thanks for reading. Talk to you Wednesday. Until then be sure to smile at a writer. Or maybe a dog. 🙂