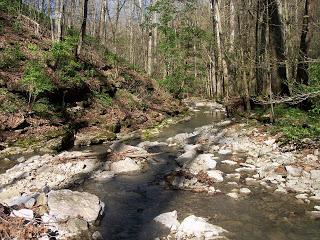 What is it about a creek like this that makes you want to keep on following it? To see what's around the next corner. To see where the water goes?
~~
This is my creek. At least as much as any creek can belong to anybody. I don't say it's mine just because it's on my land. I say it's mine because my feet like to follow its stepping stones. I say it's mine because hiking down through it or beside it brings me joy. I haven't been down the creek yet this year. I'm waiting for the time of the wildflowers and I suppose, time for the hike.
~~
I'm deep into edits on a book due out early next year and the changes I want to make in the story are more involved than my usual editing jobs. This time I'm having to whittle in places and enhance in other places. The story is there, but now I'm following down its creek and looking for some bright rocks I can point out or pitching out the dull rocks that are clogging up the flow of the story.
~~
A story is a bit like a running creek, at least my running creek. This creek, my creek starts with a spring of water spilling up out of the ground. A story starts with an idea springing out of one's imagination. The water begins rolling down the creek bed splashing past rocks and tumbling over little waterfall ledges. A good story too starts rolling along and twisting through the plot thickening rocks the writer throws into the stream. If the water stops running and gathers in a pool, it can get stagnant quick. The same with a story. No matter how beautiful the place, the story can't just sit there or it will be stagnant the same as the pool of water. It needs to rush on, find the next bunch of rocks, gather water perhaps from new springs as it keeps flowing to find its ending spot. For my creek that's a bigger creek and then the river. At least that's so when there's plenty of rain. When there's no rain, the creek just runs out of water and becomes a dry bed of rocks.
~~
I'm trying to keep my story from running out of water. I want it to keep flowing. I want it to be full of sparkling water/words that will quench the story thirst of my readers. And so I'm working over every page, studying my editor's suggestions, listening to every line of dialogue, testing every word in hopes that when the story is finally ready and in a reader's hands my story will look as enticing to that reader as my creek does to me in the spring.
~~
For those of you who might want another chance to win a book, I've got another blog interview up. I'm sure you've noticed that I've been talking to everybody I can about my new book
Angel Sister
. This time fellow Kentucky writer Karen Lange asked me some questons on her blog "Write Now." You can leave a comment on Karen's blog (see her posted rules) before Friday to have a chance to win a copy of what else –
Angel Sister
.
http://www.karenelange.blogspot.com/
~~
And Friday I get to be tour bus guide for a day as I accompany a group of retired legal secretaries to the Shaker village near me. That may be interesting. Perhaps I should have told them that I sometimes get car sick. I'm hoping for smooth roads and few curves. I'll tell you how it goes Sunday and whether I had to have a barf bag.
~~
As always, thanks for reading.