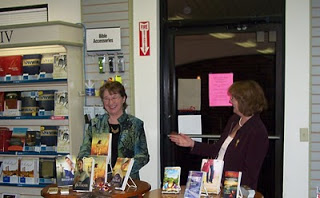 For a writer, when your book is finally out there for the public to read is a time to savor. The reward for all those days sitting in front of the computer trying to force words out of your brain and wondering if the story would ever get told. It's the bonus for waiting through the year as your book goes through the publishing process – accceptance, edits, cover designs, more edits, marketing plans and waiting for the story to turn into a real book you can hold in your hands. Even better, a book that readers can hold in their hands. Or maybe see on their Kindles or Nooks or whatever electronic device.
~~
One of the best parts of that new book being out is the opportunity to share the fun with your friends. So writers have book parties. They go to stores or wherever they can find a willing host and they invite everybody they know to come listen to them talk about the new book and maybe, just maybe decide to buy an autographed copy. So that's what I'm doing in the picture along with my friend, fellow author Virginia Smith. Ginny and I both have a new book out this month. Mine is Angel Sister, a historical novel set in the 1930s about a family getting through some hard times with love. Hers is A Deadly Game, a contemporary romantic suspense that will keep you on pins and needles. Both books have a Kentucky setting.
~~
Ginny and I teamed up for a book signing a year or so ago and had a great time. So when the people at Corinth Book Store suggested a team book launch, we jumped at the chance to share a book party. And as you can see in the picture, we had a great time. There is always plenty to laugh about when you talk about writing books. Maybe it's so easy to laugh at book launches because writers with newly published books are just so happy the laughter just bubbles up and out. This is the good time. The time when you can believe that everybody, and I mean everybody, is going to like your story. It's early for reviews. You've maybe seen a couple. So far I've liked the ones I've seen. The book was a Top Pick and earned 4 1/2 stars in the RT Book Review Magazine. That's the kind of review that can keep a writer smiling for a while.
~~
Of course you know there will be some people, some reviewers who might not like your book as much as you hope they will, but at a book launch you don't think about them. You see all the smiling faces of your friends and those who have come to hear you talk about writing this book that is going to entertain them and make them glad they came out on a cold February night to hear a couple of writers talk about writing and laugh with them. And we did talk and laugh and have a good time with our friends.
~~
A special thanks to Steve, Bonnie, Mickey and the staff at Corinth Christian Book Store for hosting our book party. It's great to have a Christian book store that goes above and beyond to support local writers. It was also great of the Bluegrass Christian Writers group to come out in support of Ginny and me. If you missed our tag team book talk in Frankfort, you'll have another chance to meet us at JosephBeth Book Store in Lexington on Tuesday night, Feb. 22 at 7 p.m. Then I'll have a solo hometown book launch here in Lawrenceburg at the Anderson County Public Library on Sunday March 6 at 2 p.m. I'll have door prizes there so that's always fun.
~~
Since I'm talking about prizes, don't forget to check out my February giveaway. You can win a gift card to Amazon or Christianbook.com or if you're nervous about internet gift cards, you can choose to have me send you a couple of books. Just send me an e-mail. You get extra chances to win by telling me about a sister. She can be a sister of the heart. I'd love to hear your story.
~~
Have you ever been to a book launch? Have a good time? Maybe you launched your own book. Tell us about it.
~~
Uh-oh. Looks like it's midnight so Happy Valentine's Day and thanks so much for reading. .