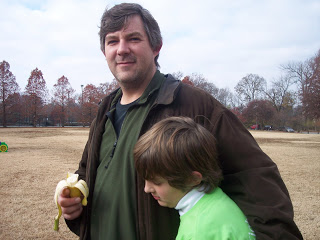 I love birthdays.I didn't say I liked counting them, but I do like having them. I love helping others celebrate their birthdays. I'm glad that at my little church we sing happy birthday to our members on their special days. And I'm glad I have one child who still lives close by so that I can cook him a birthday dinner every year. When the kids were little I decorated cakes. Not fancy decorations. My icing was usually a little soft and the letters of the kids' names ran together, but it was still fun. Now I let the kid who comes home to eat around his or her birthday pick the dessert. So today we had cherry pie. And peach pie for extra. The birthday boy ate the cherry pie. One of his favorites and mine too if you have the right cherries. You know those you picked off a tree yourself and stood in front of the sink for a few hours pitting them. But cherries are worth it. Even when my kids were little I'd let them pick the menu for dinner on their big days.
~~
As you can tell from the picture, my baby's not much of a baby anymore. He has a house full of babies of his own. One of those babies asked me today if her daddy was still my baby. Of course I said yes. He'll always be my baby the same as I'll always be my mother's baby. Age has nothing whatsoever to do with that. I could tell by the look on her face that she couldn't exactly imagine her daddy as my baby, but I have no problem imagining that at all. Just zoom back a few years to his first birthday. We thought he might have the mumps that day and just to make things a little crazier, we moved into our new house with the sky spitting cold snow. A great birthday present. On his second birthday I blew up this huge balloon for him. It popped soon afterward to his great distress. After that the birthdays are harder to separate into individual memories. There was the year we invited ten little boys to the house for a party. That was interesting. Then we survived the teen years when we wondered if we'd make it to another birthday. At least with any kind of sanity. But he found a beautiful girl and settled down. He was an extra lovable baby, a great kid and now is an even better man – a good husband and father and son. This mother is blessed and that's why I love birthdays.
~~
I've got a couple of internet interviews up this week. One on A Sequence of Continuous Delights,
www.continuousdelights.com
, and another on Suzanne Woods Fisher's Author Spotlight,
www.suzannewoodsfisher.blogspot.com
. Both gave readers a chance to win an autographed copy of
Angel Sister.
They asked some great questions too. And if you're in the area, I'll be doing a booksigning at Corinth Christian Book Store in Frankfort, KY along with Virginia Smith, author of
A Deadly Game
on Friday, February 11. We're going to do some talking, some question answering and have a great time. So come on out and join us. If you need directions the store's number is on my Event & News Page on the website. That's where you can find out about the current giveaway too if you're interested.
~~
Thanks so much for reading.