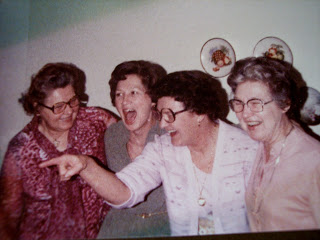 "History is nothing but a series of stories, whether it be world history or family history." (Bill Mooney & David Holt in The Storyteller's Guide)
~~
My book, Angel Sister, is about a family with four sisters – sort of. You'll have to read the story to find out what I mean. But here are the first four sisters – my mom's on the left, Bill, the youngest sister next, then Margaret and finally Evelyn, the oldest sister. I love this picture of them because it's how I remember them when they were all together. Laughing. Having a good time. Telling stories about when they were kids. All the sisters are gone now except Mom and she misses them. Sometimes she can't believe it's true and with her dementia she wants to go back to a time when they were still beside her, still laughing, still remembering.
~~
Somebody asked me what I meant by the "fun of storytelling." I had told her she could join in the fun of storytelling by entering my website giveaway. An e-mail qualifies you for one entry. Never having won anything from me qualifies for a second entry and telling me a story about a sister or a friend who's like a sister means you get a couple of extra chances to win one of four $25 gift certificates to either Christianbook.com or Amazon.com. Not big prizes, but enough to buy a couple of books or more if you bargain hunt. Two of my Shaker books are bargain priced right now. I had fun with the Christmas gift stories I got in my last contest and so thought this would be a great time to talk about sisters. Because of Angel Sister, of course. But when my reading friend asked me about the fun of storytelling, the phrase stuck in my head.
~~
What is the fun of storytelling? That's what I do. Tell stories. Mine are written down, but I also love listening to oral storytellers. I like reading other people's stories. I enjoy hearing my family tell stories I've heard a dozen times. And I enjoyed hearing my mother and her sisters tell their stories. Those stories were the seed of the idea that grew into my story, Angel Sister. Those stories gave me the background of my story. Those sisters were the shadowy beginnings of the characters I created. Two of the odd characters that kept them laughing and made them surely believe their little community of the Alton had more than its share of peculiar people stepped into my story.
~~
I couldn't use all the odd characters. I didn't use the man, reputed to be brilliant, yet wore nothing but bib overalls and went barefoot winter and summer while walking everywhere he went. I didn't use the man who liked to torment my grandmother by showing up at her door with snakes in his pockets or curled up on his head so that when he lifted his hat up to say good day she would see the snake. My grandmother did not like snakes. I didn't use my own odd great aunt who wore nothing but black from the time she was a young woman including a black cap she pulled down over one ear to keep the wind out of it.
~~
I had to pick and choose my stories. But once I had my cast assembled on the set, then I had to forget their real stories and get them to play pretend with me. The background of Angel Sister is as true as I could make it from absorbing the stories they told me. But the story and characters are from my imagination. And that to me is the fun of storytelling. Letting the characters I invent tell me their stories so that I can share them with readers like you. The writing is sometimes hard, but the storytelling is always fun.
~~
Hope you think storytelling is fun too. Don't forget to tell me a story about your sister or friend to enter my giveaway. I'm looking forward to your stories.
~~
Storytelling is what lights my fire. (Hope Davis)